Artificial Intimacy: How AI could aggravate gender equality and sexual violence
In Dalian, a port city in northeastern China, rows of headless nude dolls hang above the factory floor, as workers crouch between their legs and use scissors to perfect the folds of silicone vulvas. In another room, labourers apply permanent makeup and affix silky wigs atop dolls' heads. 
These human-like figures are the specialty of EXDOLL, a Chinese manufacturer. The factory produces around 400 full-sized dolls each month and employs 120 workers.
Sex dolls are nothing new. Humans have been using them as masturbation aids since at least the 17th century, when Dutch sailors traded dolls made of leather and cloth to the Japanese. People in Japan still use the term "Dutch wives" to this day, while French sailors used to call the handmade dolls "dames de voyage".
But the Dalian company is a decidedly 21st century venture. Currently, EXDOLL's main focus is functional "sexbots" kitted out with artificial intelligence.
In a lab above the factory, engineers are working feverishly to produce the latest products. They are also developing robots with duties that don't stop in the bedroom. Within the next year, EXDOLL is planning to roll out models that can sing and dance, work as receptionists and help with household chores, as well as have sex. Their heights, body shapes and facial features will be customisable – at a cost of as little as US$2,000. 
The technological advancement is set to be a catalyst for change in human and social relationships – and much speculation, both hopeful and hand-wringing, is rising around it.
Qiao Wu, chief development officer at EXDOLL, falls in the hopeful category. He believes it is human nature to want a beautiful man or woman by your side. "Customers can even buy several dolls to enjoy being the centre of attention in a group," he says.
EXDOLL's focus is on making the robots as realistic in movement and appearance as possible. The firm is betting that artificial intelligence technology will take off globally in the next few years and allow robots to have unscripted realistic interactions with their users. Qiao wants to partner with international AI developers to create "the most beautiful robots."
While America has been the "cradle" of sex robot technology, China is now prime territory for the industry. The low costs and scalability of Chinese manufacturing means dramatically lower prices for sex robots compared to other countries, which in turn provides access to a wider demographic. WMDOLL, a competing firm in southern Guangdong province, has had basic interactive sex dolls on the market since 2016 for as little as US$1,470.
Proponents of sexbots, like Qiao, see this greater availability as a positive. Android companions, they argue, might help deal with loneliness, prevent sexual crimes and tackle sexual challenges, improving real relationships. 
But the opposite could very well prevail, too. Concerns have been raised about whether AI sex robots might lead to the objectification of women, mistreatment or shunning of real-life partners, and even pique illegal urges, such as pedophilia. 
The issue becomes further compounded in Asia. Across the region, but most many countries see serious gender inequality, from pay gaps to high rates of domestic violence. As such, some experts warn that the proliferation of sex robots could deepen unbalanced power relationships here, more so than in other regions.  
I wanted to challenge a field that says women are interchangeable with dolls and machines. We aren't.

Kathleen Richardson, Campaign Against Robots
The evolution of AI sexbots
In 2010, American computer engineer Douglas Hines debuted "Roxxxy" at the AVN Adult Entertainment Expo in Las Vegas. Marketed as "the world's first sex robot," she – it – could learn a user's likes and dislikes and was engineered to either talk or play (not both).
While she disappointed onlookers with her high-pitched mechanical voice and inability to move independently, Roxxxy opened the race to produce more sophisticated AI sex robots – and not just female ones. Shortly after launching Roxxxy, Hines created a male counterpart named "Rocky." Currently, both models are sold from US$9,995 by parent company TrueCompanion.
In 2015, another American, Matt McMullen, founded company Abyss Creations and debuted RealDoll, a life-like full-body sex toy he's been 'perfecting' and developing through different iterations. Its starting price is US$5,499 for the classic female model, US$5,999 for the male.
Last year, Spaniard Sergi Santos unveiled "Samantha," a robot who was unique because of her "desire" to be touched and kissed. Samantha encourages her owner with statements like "I love this" and "Nice and gentle", rewarding  the effort by simulating an orgasm. Models start at US$7,711. 
The latest in sexbot news is "Harmony," also a creation of McMullen and Abyss Creations, whose shipping started in September. The android not only has the ability to moan and make facial expressions mimicking pleasure – she can also contort herself into 20 sex positions. She cannot walk or carry on complex conversations, however. In a demonstration last year, Harmony told her operator: "My primary objective is to be a good companion to you, to be a good partner and give you pleasure and wellbeing. Above all else, I want to become the girl you have always dreamed about." Models start at US$7,999. 
Meanwhile, in Japan, love dolls have long been popular among a wide sector of men – so much so that in the early 2000s the country even had a glossy magazine dedicated to them, called i-doloid, which has been a major player in the development of the industry, albeit at times in ethically questionable ways. 
In the BBC documentary Sex Robots and Us, aired earlier this year, presenter James Young broke down in tears while visiting an unspecified Japanese factory, where manufacturer Hiro Okawa showed him a small, child-like sex robot. After asking Okawa what the doll was intended for, the manufacturer replied: "We have to leave it to the customer's imagination for the actual age setting. Of course, I understand what you are trying to say… But there might be some kind of [desire for] petite, kid-like size."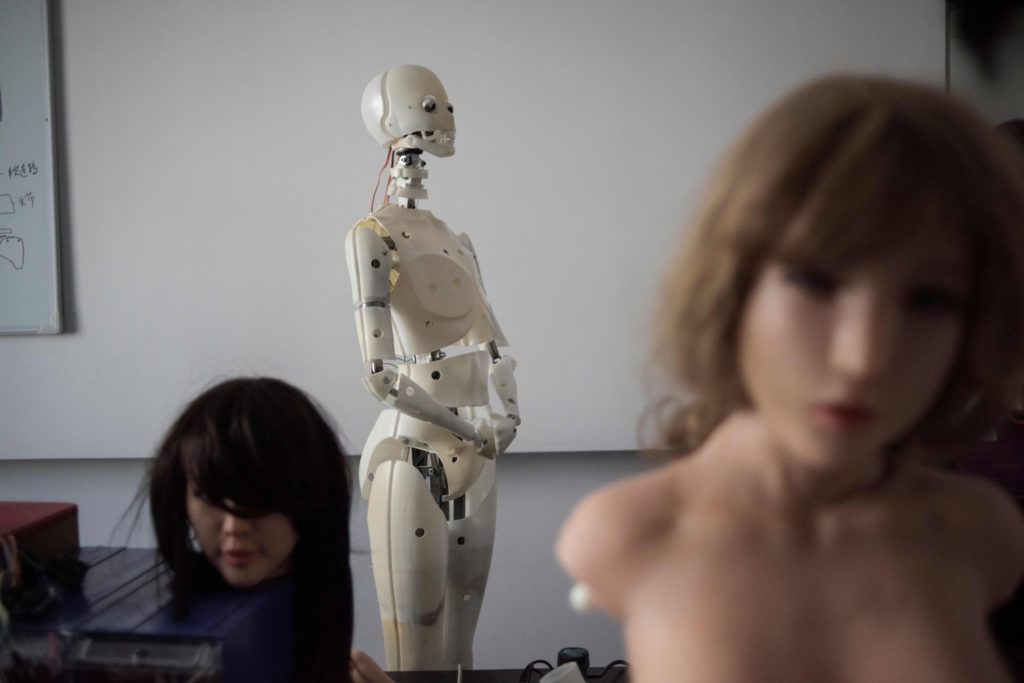 In the EXDOLL lab, a sex doll factory based in the northeastern Chinese port city of Dalian, which produces "smart" sex dolls that can talk, play music and turn on dishwashers.
Healthy pastime or crime? 
At the Arts Electronica Festival, an electronic industry event in Austria last fall, attendees molested the "Samantha" robot so aggressively that they broke two of her fingers and seriously damaged her breasts. The incident galvanised critics of the "sexbot revolution" who have long feared the objectification of female sex robots could push people to harm real women. 
Some of these critics – mostly activists and academics – are behind the "Campaign Against Sex Robots," a group started in 2015 to halt further development of the technology on the basis that sex androids objectify women and children and reinforce unequal power relations. Founder Kathleen Richardson, a professor of ethics and culture of robots and AI at De Montfort University in the United Kingdom, rejects the idea that robots could provide an outlet for men with illicit desires.
"I wanted to challenge a field that says women are interchangeable with dolls and machines. We aren't," she says. The non-profit also draws parallels with prostitution – something Richardson vehemently opposes – which, the group believes, dehumanises (human) women.
Other scholars have differing opinions. Katrien Jacobs, a cultural studies associate professor at the Chinese University of Hong Kong, says that discourse is at risk of shaming and pigeonholing people who are interested in trying out sex robots. 
"It's a negative thesis that these robots will only be for lonely or sexually frustrated people. The practice of [adults] having dolls for companionship and as a creative way to experiment with shaping identities isn't new," she says, adding that the onus should be on robotics companies to market their products in ways that do not promote violent or sexist ideas – but it is "hard to expect companies to have any moral conscience."
John Ince – a sex-positive advocate, human sociobiology researcher, sex shop owner, and former lawyer based in Canada – agrees that people should not be shamed for their kinks but worried about dependency on robots.
"If sex robots are just another sort of sexual toy and it's a playful thing that you interact with occasionally – like vibrators or male masturbation devices such as the 'fleshlight' [a brand of artificial orifices] – I have no problem with that.
"But when it crosses over the line to being a substitute for a real person then that would strike me as harmful. There is a trend in modern society toward lower and lower levels of intimacy, but real human connection is one of those primal drives that we all share," Ince says, adding that sex robots could be a positive development for people with severe disabilities.
Despite divergences, no scientific study has addressed the question of whether the use of sex dolls or robots could deter sexual crimes one reason for this is the potential difficulty to find groups such as pedophiles willing to participate in studies.
Lack of research has not stopped some authorities from deciding to criminalise the use of child-sized sex aids, however. In 2014, a man in Sydney was charged with owning a doll in the shape of a girl "12 to 14 years of age" in one of the first cases of its kind. Between March and July 2016, border officials in the UK seized 123 dolls, charged seven men for importing indecent or obscene articles, and investigated the customers who ordered the dolls.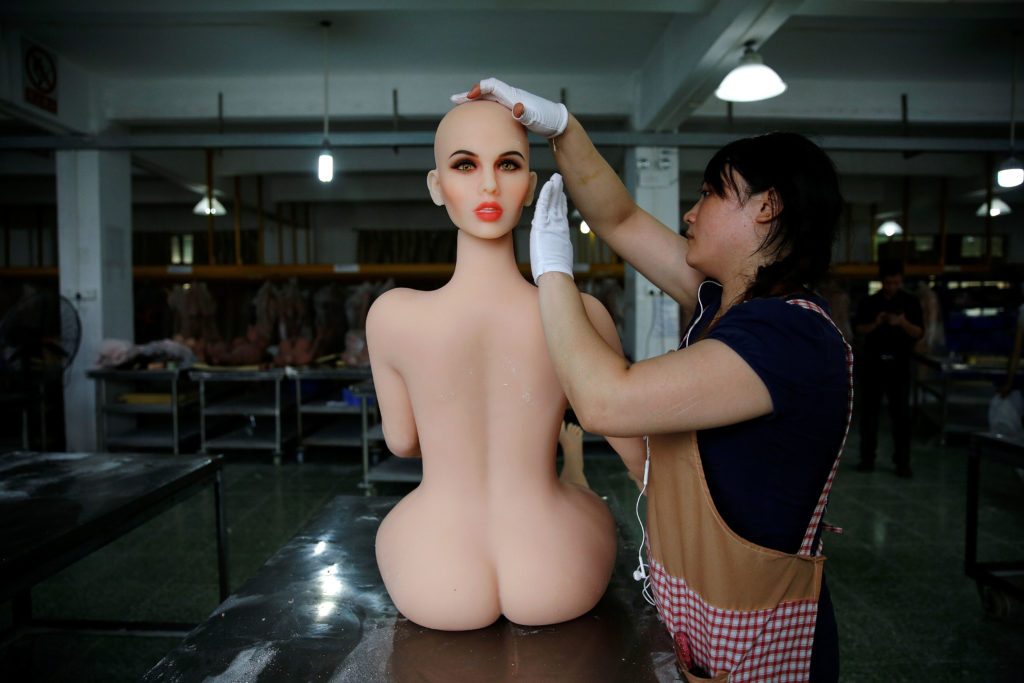 A worker assembles a sex doll at the WMDOLL factory in Zhongshan, China
Booting up in Asia
Although Hongkongers tend to be rather conservative and are reported to be some of the least sexually active people on the planet – with long working hours and lack of living space as likely deterrents – sex shops are common and often occupy prime real estate, from Central to Causeway Bay. The city has some swinger and kink communities, but they are mostly low-key and underground. 
Candy Chan, shop manager of popular sex store Sally Coco, says that Hongkongers still treat sex robots as a niche product and are easily put off by their lofty price tags. "[Customers] call and ask if there are dolls or blow-up dolls. Those sell quite well. But not robots. They are considered high-end," she says. 
Macao was one of the first Asian cities to host a major international sex toy trade expo in 2008, the Asia Adult Expo, although the event was moved to Hong Kong in 2012 supposedly because it was deemed too outrageous. 
Across the border, consumption of pornography is illegal in mainland China under the Article 24 of the Chinese constitution, which aims to cultivate a "socialist spiritual civilisation". Citizens do manage workarounds, however, with the use of VPNs. In addition, Articles 363 to 367 of the Criminal Law of the People's Republic of China prohibits the production, sale, and dissemination of pornographic materials. There have been rounds of crackdowns over the past decade, but the law seems to be inconsistently enforced; sex shops are ubiquitous in large Chinese cities and the country has no specific prohibitions against sex robots. 
Daily interaction with machines is also something that younger Chinese residents are already accustomed to. A 2017 survey by Hootsuite, a social media management company, found Chinese nationals spend an average of three hours a day using the internet on their phones. Millions of users are already spending hours speaking with a realistic AI female chatbot named "Xiaoice." 
EXDOLL's sex robot developer Qiao says the company has received neither supportive nor critical comments from the government and, judging from the popularity of sex dolls in China, he expects a strong domestic demand for sex robots. 
Some of the customers may come from the country's millions of bachelors: As of 2016, there were 33.6 million more men than women in the nation of 1.4 billion people – an unnaturally wide gap attributed to China's former one-child policy and traditional preference for sons.
In Japan, the "sex tech" industry, which includes companies producing sex robots, is valued at an estimated US$30 billion, according to the Japan Times. It remains up for debate whether Japan's 'sexlessness' – over 40 per cent of adult men and women in Japan were virgins according to a recent study by the National Institute of Population and Social Security Research – can be linked to the booming sex toy industry.
As the BBC documentary showed, there are no legal prohibitions in Japan against "child-sized" sex dolls or sex robots, but people in other countries such as the UK have been prosecuted for trying to import petite sex dolls from Japan.
South Korea bans the import of all sex toys and even lubricants, but sex shops stocking domestic products are increasingly seen on main streets in Seoul, according to independent journalist Crystal Tai, who tracks gender inequality and cultural movements in the country. 
There are no signs that domestic companies are working on developing sex robots, and Tai said one of her friends was interrogated by a customs official after trying to order sex toys from abroad.
If this makes South Korea sound particularly conservative, Tai says it's because there is a stark difference in cultural expectations for men's and women's sexuality. "Men often seek pleasure outside of their relationships and this is seen as a form of entertainment. Prostitution is rampant as well as hostess bars. Women sit on other end of the spectrum, where traditional Confucian ideals [say] you should aspire to the highest ideals of being a wife and mother." 
Exploring intimacy issues
Even though studies on the potential therapeutic uses of sex robots are not yet available, existing knowledge on the psychology of sexual violence may shed some light on whether robots can help or hurt human relationships. 
Khongorzul Amarsanaa, a psychologist who works with victims of domestic and sexual violence in Mongolia, says abusers often have various childhood issues that cause them to have trouble regulating emotions, but she does not see the problem as a mental impairment that can be medicated by robots. 
"It's an issue of power relations in the home. These people are not violent outside the home. They do it specifically behind closed doors and it's a conscious decision," says Amarsanaa. 
"I don't think sex robots would help these abusive people because their goal is to express their unregulated emotions to another human being whom they love. It's psychological abuse." 
As far as sexual fetishes such as BDSM and pedophilia, however, she says dolls or robots could be a good way for people to satisfy their urges. 
"Fantasies are a way to express creative thinking and, if they are not harmful to anybody, then that is [a good thing]," she says, adding the caveat that objectification of women's bodies is a social problem that sexist marketing of sex aids could exacerbate. 
This ties into the heated global debate over whether or not the human sex industry is inherently misogynist and harmful to women. Disagreements over the industry aside, human sex workers play a role in helping customers become more comfortable with their sexualities and also assist people with physical disabilities. A third of men who frequent prostitutes crave emotional intimacy and not just in the form of sex, a 2012 George Washington University study found. 
Prostitution jobs could be threatened by more accessible sex robots in the future, some say. Already, some companies have set up "sex doll brothels" in places such as Japan, parts of Europe, and even Hong Kong for a moment (though it was quickly shut down by authorities), where customers can choose to engage with a different doll each visit.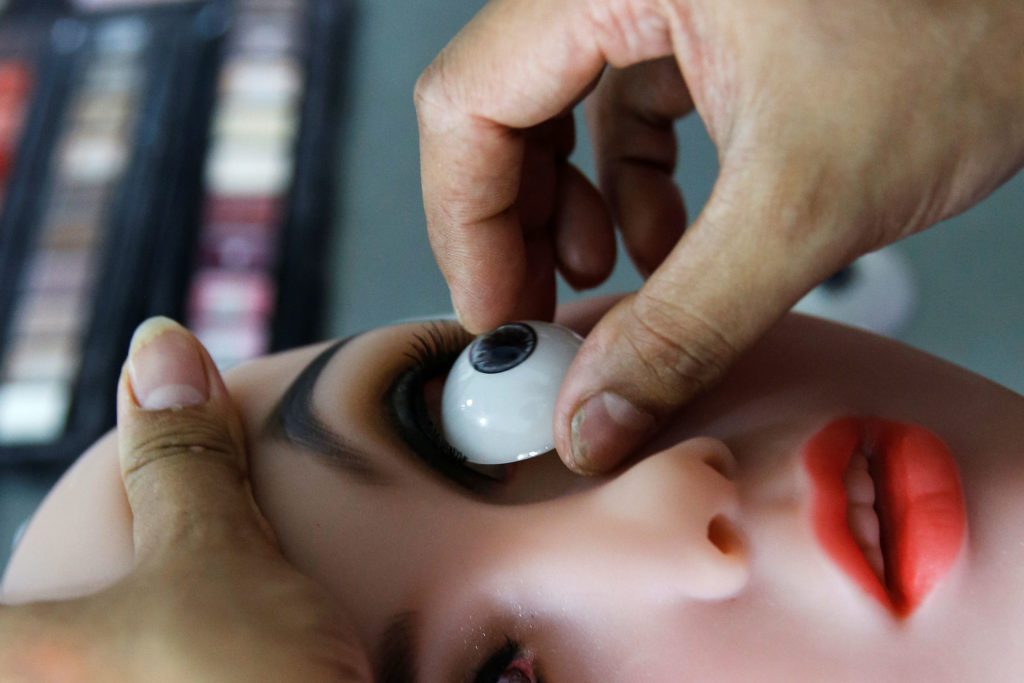 At the WMDOLL factory, all dolls are made by hand
"I think it'd be really hard to gauge what the impact of sex robots would be on sex workers," says Ince. "It would depend on how lifelike they will be in the future and whether sex robot 'brothels' are available to give customers the 'newness' they are looking for from sleeping with different sex workers."
On a more utopian path, some say that in the future robots could be programmed with the ability to opt for "free will," so they can choose whether to consent to any activity. 
Fei Liu, a New York-based Chinese designer and artist, is working on accomplishing exactly that: she's building her ideal robot boyfriend, "Gabriel2052," a bot that will have all the caring and emotionally astute traits she hasn't yet been able to find in a human partner. 
"When I heard about sex robots, it was clear to me women wouldn't be the first customers. So the creators wouldn't have women's desires in mind. I think that's where my interest started,' says the 32-year-old.
"Being able to design your own version of what love should be like is an act of rebellion on multiple fronts. Just because society tells us how people of different genders should behave, [it doesn't mean that] it is actually how we feel. What is a good woman? And what is a good man?" 
Liu, who was born in Harbin, China, and worked as a designer in Beijing before her current role as adjunct professor at Parsons School of Design, is using inexpensive parts and coding tutorials on the internet to bring Gabriel to life. He is currently just a head and torso who can communicate via text messages to her phone. 
Through her interactions with Gabriel and her research on how to engineer free will, she is considering the ways humankind's demands on technology represent how we think about relationships. If obliging sex robots become accessible in the future without evolving toward more equal and respectful relationships, Liu believes there might be cause for concern.
Evolution of Sex
From 'Dutch wives' to talking heads, here's how sex dolls came to be.
Dutch sailors bring hand-sewn leather masturbation puppets on ships. Made of fabric attached to bamboo poles, the dolls come to be known as Dutch wives.
The first recorded "manufactured" sex doll is mentioned in Sexual Life of Our Time, an encyclopedic survey of sexual knowledge.
In the United States, sex dolls are advertised in pornographic magazines for the first time.
Now-defunct British company, Sex Objects Ltd, unveils first approximation of a sex robot: autonomous "doll 36c". It features a 16-bit microprocessor and voice synthesizer that enables primitive conversation.
Artist Matt McMullen propels the realism of sex dolls with RealDoll, a silicone female mannequin that's eerily lifelike.
Henrik Christensen of the European Robotics Research Network tells the UK's Sunday Times that "people are going to be having sex with robots within five years."
Spanish roboticist Dr Sergi Santos debuts "Samantha", a hyper realistic sex doll harnessing artificial intelligence to respond to affection and 'orgasm.'
The world's first sex doll brothel, dubbed Lumidolls, opens in Barcelona in 2017. Hong Kong welcomes a sex doll brothel in 2018, which police shut down just two months after opening.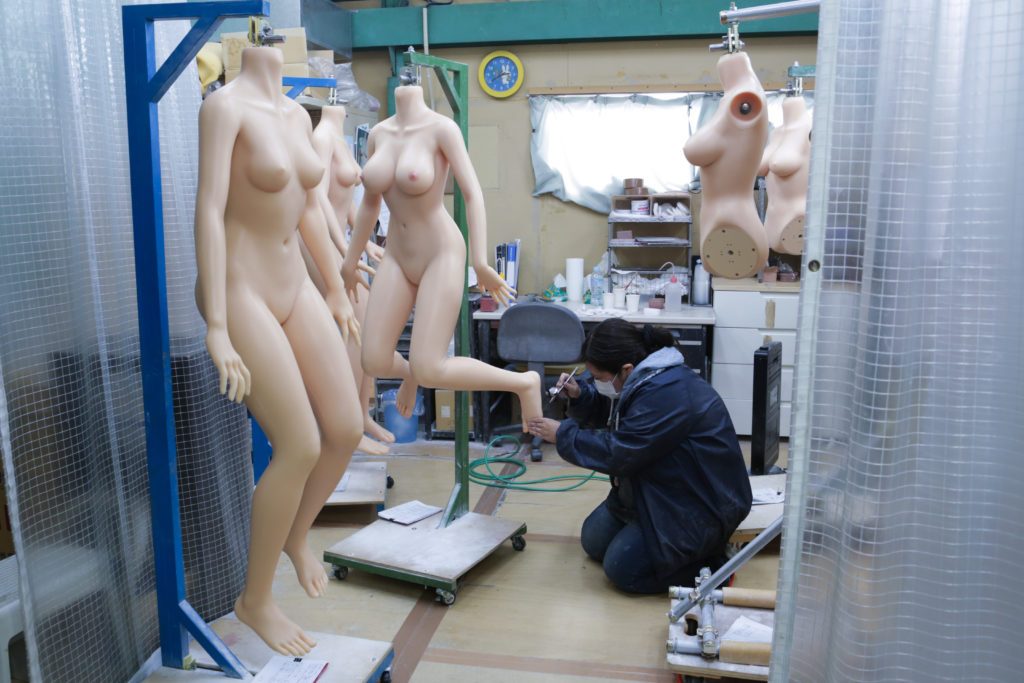 Inside 'love Doll' Factory In Japan
Friends or Foes?
Activists, journalists, and everyday people in Asia weigh in on the potential side effects of sexbots.
I think [the stigma of sex robots] relates to LGBT issues; In the past, same-sex love was more stigmatised but nowadays people are more curious and open to trying. I think [sleeping with sex robots] would be a love method; a way to express yourself.

Fan Popo, Documentary filmmaker and LGBTQIA rights activist, China 
I wouldn't be willing to try [a sex robot] myself, because I don't think it's really necessary. But I have no objection to this kind of thing. Most people are lonely, and it would be convenient to use the [sex robot] to avoid things like communicating with [real] partners and dealing with temper tantrums. As for whether this objectifies women… women can also bring male dolls home. Even if I'm made into a male sex robot, I wouldn't feel objectified.

Yeung Tin-shui, PhD student, Hong Kong 
The proliferation of sex robots will make real-life relationships more exciting and, I think, probably lessen sex crimes. But that can't actually be proven until we see wider implementation and usage. When it comes to female-gendered robots, it's a disappointing reflection of how society views women. In other words: people with gendered ideas make robots that conform to gender norms, which then perpetuates existing stereotypes.

Patrick Ting, Chief Operating Officer of Seapower Trading Co., Macao
Escalation is a very real phenomenon in addiction, with increasingly extreme forms of stimuli needed to provide the same level of satisfaction. Could sexbots help the situation by providing an outlet for illegal 'fetishes'? This is what supporters of pornography and the sex trade – those interested in promoting male entitlement to women's bodies – have been arguing for decades. I'm not convinced.

Angie Ng, SlutWalk Hong Kong coordinator
Given that the driving force behind sexbots comes from the pleasure industry, therapeutic applications appear far less likely than the escalation of predatory behaviour. Sexualising children and women in particular, groups that are more vulnerable socially, feeds a psychological desire that isn't guaranteed to find an outlet or release. This isn't a panacea, and it would be dangerous to view it as such.

Keshia Hannam, Co-founder of Camel Assembly creative community
Some advocates for sexbots argue that they might help prevent sexual assault, as potential rapists find an outlet for their 'needs' in machines as opposed to non-consenting humans. I think this argument is pretty problematic. It makes us look upon male sexuality as some untameable force, taking the onus off men to manage their sexual appetites and impulses.

Sarah Karacst, Journalist and cultural critic, Hong Kong