Stranded in Hong Kong: The plight of domestic workers during COVID-19
For the past 12 years, 35-year-old Jenny Rose Valdez has been working as a domestic worker in Hong Kong. Every winter, she usually flies back to the Philippines to celebrate Christmas with her husband, son and the rest of her family. In early 2020, Valdez came back to Hong Kong with an unexpected gift. A couple of weeks after she returned from her holiday trip, she learned she was pregnant. 
In late January, when Valdez was one month pregnant, the first signs of the novel coronavirus outbreak surfaced in Hong Kong, prompting many foreigners and expatriates to leave the city. Valdez's French employers flew back to France, leaving her to take care of their apartment in their absence. In late March, the second wave of coronavirus infections struck Hong Kong, delaying Valdez's employers' return. 
By late spring, Valdez's belly had grown full and round and she longed to return home to her family. But in May, the Philippines saw a new surge of COVID-19 cases, bringing the total number of infections to more than 100,000 by early August. Flights from Hong Kong to Manila were cancelled, and Valdez has no choice but to give birth in Hong Kong alone.
"I am excited and happy but worried for the future because the pandemic is still here and we don't know what it's going to be like," says Valdez with tears in her eyes. "It's really hard to be away from my family. Sometimes I am happy, sometimes I am sad. I feel very homesick and miss them so much, I wish they could be here." 
Valdez is far from the only migrant worker who has been isolated or stranded in Hong Kong due to the pandemic. Between 100,000 and 200,000 domestic workers, mainly from the Philippines and Indonesia, are stuck in a similar situation, estimates David Bishop. A principal lecturer at the University of Hong Kong's Faculty of Business & Economics, Bishop specialises in refugee and migrant labour law.
The COVID-19 pandemic has displaced millions of people all over the world, due to travel restrictions. Migrant workers are particularly affected because they are often marginalized, have little job security, and lack support and resources, leaving them vulnerable to exploitation and unable to reunite with their families.
"The entire system is designed in such a way that it has no regard to their rights and dignity," explains Rachel Li, a research and policy officer at the Justice Centre, a Hong Kong-based NGO and charity providing advocacy and direct legal assistance to marginalised communities. "So when something like a pandemic strikes, it really exposes those exploitative aspects of the system and makes them particularly vulnerable," she adds.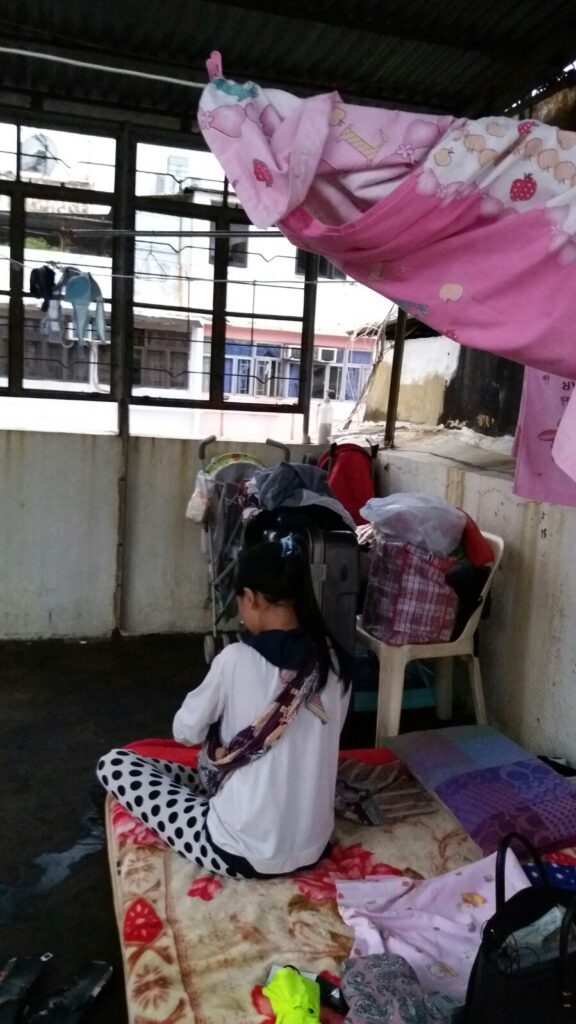 A mother staying on an open rooftop before she moved into a PathFinders shelter. Credit: Pathfinders
Alone in Hong Kong
Jobless and stranded in Hong Kong, many domestic migrant workers are fighting to survive without paychecks or places to live. Sarah*, 41, quit her job as a domestic worker in June after she was psychologically harassed by her former employer while pregnant. She now lives in a shelter operated by PathFinders, a Hong Kong-based charity that supports domestic workers with prenatal and maternity care, shelter, food, health, education, counselling and legal support. 
Accommodating four women and a two-month-old baby, Sarah's three-bedroom PathFinders apartment provides a safe place to stay for as long as they need. In the living room, boxes of surgical masks and rolls of toilet paper fill the shelves, while an electric fan lulls the baby to sleep in a corner. 
"The hospital refused to give me any checkups after my employer terminated my contract," explains Sarah, who worries not only about the health of her baby and her own wellbeing but also about her family in the Philippines. "My sister died from kidney disease last year and my father is very sick. But I cannot send back money at the moment," she laments. Without an income or access to public health care since June, Sarah has only been able to make ends meet with PathFinders' support. 
Being separated from loved ones and family is just one way in which domestic migrant workers have been affected by the pandemic. According to Bishop, who co-founded the non-profit Migrasia, an incubator for solutions related to migration in Asia, COVID-19's economic consequences also makes domestic workers more vulnerable to losing their jobs.
Normally, when domestic workers lose their jobs, the Hong Kong government requires them to leave Hong Kong within 14 days. Because of COVID-19-related travel restrictions, the government has been granting visa extensions to terminated domestic workers at a cost of HK$230 per month. Though they are allowed to remain in Hong Kong, migrant domestic workers without employers have no financial assistance or medical protections.
According to Hong Kong's Standard Employment Contract – the only contract applicable to domestic migrant workers in Hong Kong – domestic workers lose access to public services, including healthcare, when their employment visa is revoked. Without an employer, they could be obligated to pay higher hospital fees, which may not be possible on a limited budget. And unlike other types of workers, domestic migrant workers in Hong Kong have no access to the right of abode, minimum wage or retirement protection.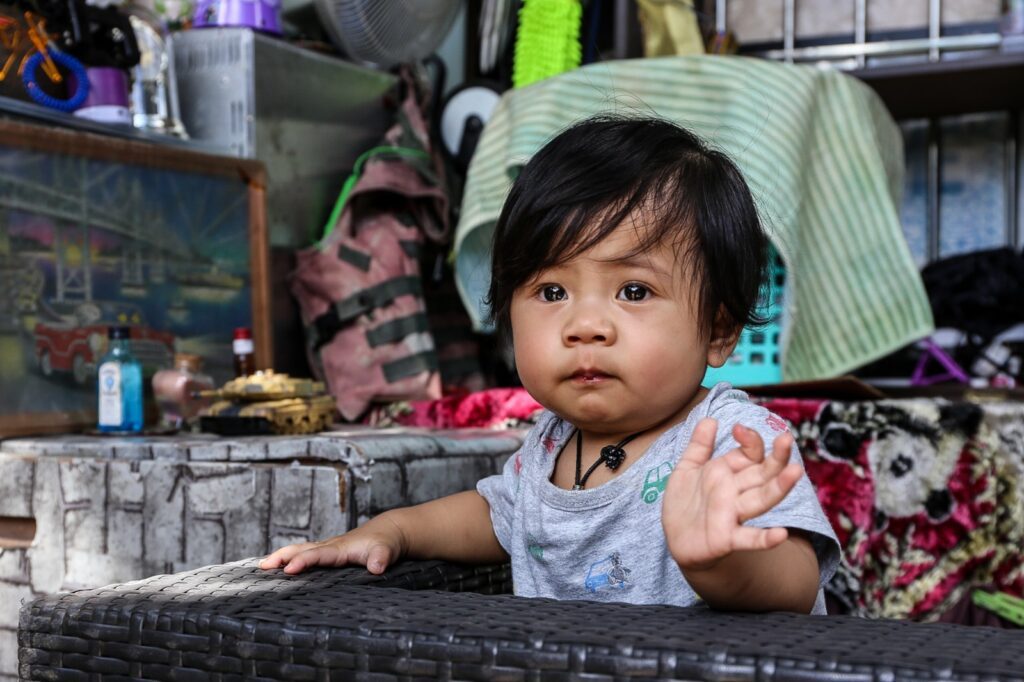 A domestic worker's child at a PathFinders shelter. Credit: Pathfinders
Stark realities
Already vulnerable to trafficking and exploitation, domestic workers have endured worsening living and working conditions since the onset of the pandemic. For example, during the first weeks of the outbreak, the Hong Kong government appealed to domestic workers to stay at home on Sundays, subjecting them to work on their rest day. Others have been pressured to accept pay cuts or work in poor conditions with no recourse. 
"It's very hard for a domestic worker who lives with the employer to seek help, especially during COVID-19 because they may not be allowed to leave the house even on their day off," explains Li. In addition, legal support may be delayed – or indefinitely unavailable – since the court system has been severely impacted by COVID-19. 
"Even in these cases, where a migrant worker has been illegally terminated, or when employers have reduced their pay or stopped paying them, it's extremely difficult and even risky for the domestic worker to quit or to file a lawsuit," adds Bishop.
"[Due to delays], those claims haven't been heard, the cases haven't been going through, and it leaves the domestic worker vulnerable to potentially losing her job and being stuck in that weird limbo." This prompts a lot of domestic workers whose salary has been reduced during the pandemic to stay silent, explains the law professor. 
Unemployed domestic workers who need to stay in Hong Kong for various reasons, including pregnancy, have attempted to use the city's asylum-seeking process in order to extend their stay. But ultimately, they see limited success in achieving asylum.  
"Overall, the immigration system in Hong Kong is not in the favour of domestic workers, especially when they have grievances or obstacles, including labour disputes, a criminal investigation against their employer or if they become pregnant," observes Li. "The entire system is so against them that some of them may be forced to use the asylum process to continue their stay."
Either way, many unemployed domestic workers end up living in empty shipping containers, caged homes, partitioned apartments, or overpacked dorms, since most shelters operated by NGOs, church groups and consulates are already full, according to Bishop.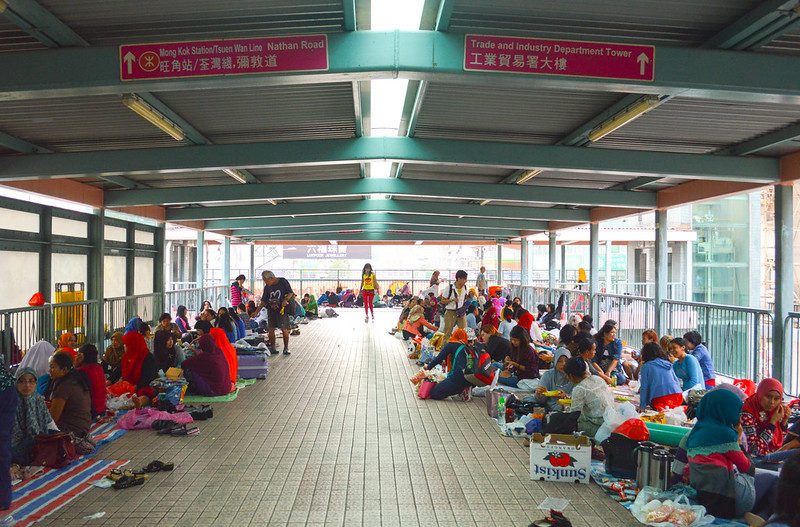 Domestic workers on their day off. Credit: Francisco Anzola
Seeds of change
According to Li, the research and policy officer at the Justice Centre, the government has shown signs that they are willing to improve the conditions for domestic workers.
In 2018, the Hong Kong government unveiled a plan to tackle trafficking in persons and enhance the protection of foreign domestic helpers. The government proposed screening potential trafficking victims as well as providing support for victims who may have been abused by employers. But according to the Justice Centre, the government never implemented any such programmes.  
"Overall, there have been some steps from the government to push for more holistic policy at a higher level, but it's not been translated at the grassroots level. So it continues to be very difficult for domestic workers to pursue labour claims against their employers because of how the labour tribunal is structured," explains Li. 
In early August, the government announced a series of measures – including free COVID-19 testing and masks – with an aim to reduce the health risks faced by domestic workers who are living in the boarding facilities of employment agencies. Aside from this effort, the government has not taken any measures to provide financial or medical support to unemployed domestic workers.
Marites Palma has been working as a domestic worker in Hong Kong for over a decade. Last year, she became a fellow at Resolve, a Hong Kong-based charity providing fellowship to emerging leaders from marginalised communities. In June 2020, Palma created a programme that provides financial support to domestic workers who lost their jobs and are stranded in Hong Kong. 
"I was exposed to many problems of domestic workers in Hong Kong and it encouraged me to use my skill set, network and knowledge to be a leader in my community… The pandemic encouraged me to support my fellow domestic workers and I am hoping that the government will include us," says Palma. 
Funded by Hong Kong-based women's fund, HER Fund, the grant is expected to provide HK$29,800 worth of aid in the form of cash and food donations to unemployed domestic workers by the end of August. But when foreign domestic workers will be able to return home and visit their families remains uncertain.
Back in her apartment, Valdez has prepared a crib surrounded by toys gifted by her friends. Through the screen of her phone, she speaks to her husband and son every day, laughing and crying in intervals. Expecting to give birth on 21 September, she hopes to fly back to the Philippines as soon as possible.
"I hope everything will go well," she says."The only thing I always pray for is that I will be healthy with my baby and everything will be fine."  
*Surname withheld to protect the privacy of the individual.
How to help:
Volunteer with or donate to these Hong Kong-based charities supporting domestic migrant workers. 
PathFinders 
PathFinders ensures the most vulnerable and unsupported children in Hong Kong are protected and respected. The charity also works to empower migrant mothers – predominantly current or former Foreign Domestic Workers – by offering services such as child protection, counselling, shelter, food, health, education and legal support. You can donate to their Bridge The Gap campaign here.
Justice Centre
Justice Centre aims to create a fair, just, and equitable Hong Kong through its research and efforts to raise awarness. The group provides legal assistance and community-centred advocacy, in order to support, defend, and protect those who are most vulnerable to violations of their rights. You can make a donation to support them here.
Resolve
Resolve provides fellowships to emerging leaders from marginalised and underrepresented communities to empower them to be change-makers and social catalysts. You can become a monthly donor or make a one-off donation here.
Mission for Migrant Workers
The Mission for Migrant Workers has been supporting and advocating for Asian migrant workers in Hong Kong since 1981. You can join their volunteer programme to assist with activities like case handling, service fairs, education and training, campaign promotion and advocacy by emailing [email protected].