Transgender individuals continue to battle sexual assault, psychological trauma
Emmie* has struggled with harassment, sexual assault and lasting trauma since February 2019. Born in Canada, the transgender woman spent the formative years of her life in Hong Kong, where she was enrolled at an all-boys primary school.
"I was pretty sure [I didn't identify as a boy] from a young age, in primary school," says 28-year-old Emmie. "I didn't really fit in with the boys. I didn't have many friends [in the all-boys school], because I found it really hard to relate."
After less than two years at the all-boys school, Emmie moved to a co-ed international school in Hong Kong then finished her education in Canada. She was struggling with academics, so her parents brought her back to Hong Kong where she worked in their retail store and then found a job as a media specialist.
An opportunity landed her an IT role at a global telecommunications company. By then, she had already been experiencing gender dysphoria – distress that resulted from incongruence between her sex assigned at birth and her gender identity – off and on since her early years. She had already identified as a girl internally before her teens but she had to keep quiet due to her surrounding culture and environment. As Emmie grew older, the feeling only grew more intense.
"I came out to my parents twice," says Emmie, who uses the pronouns "she/her". "The first time was when I was about 18 years old, but because they didn't know how to react at the time, they ignored it. The second time [I came out] was about three years ago, and they were much more accepting and started helping me."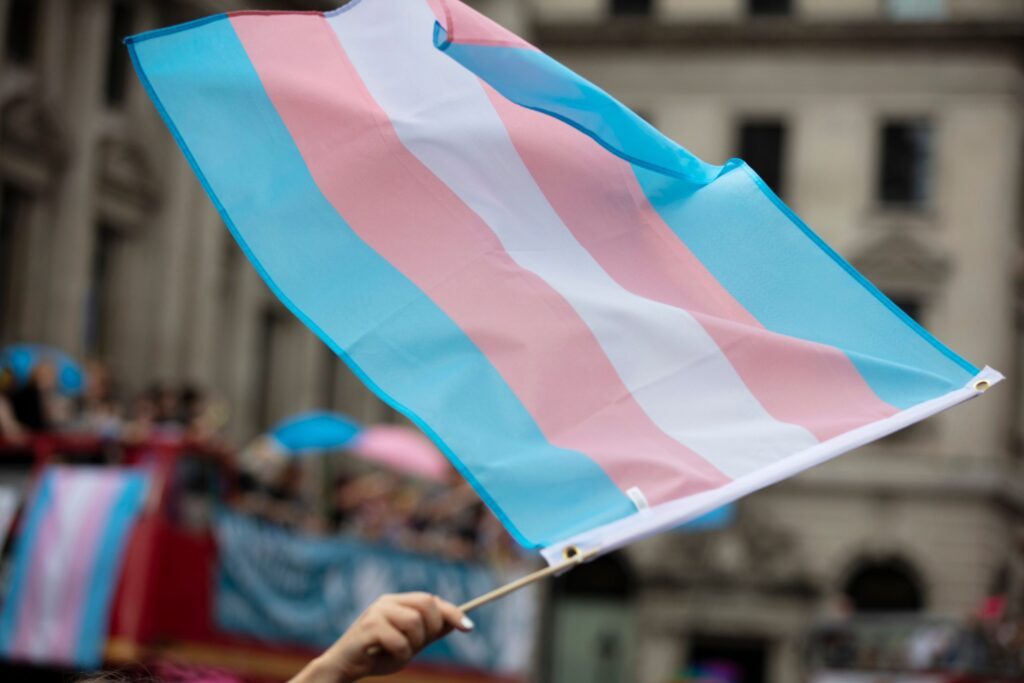 A light blue, pink and white flag was designed in 1999 and represents the transgender community.
With the support of her parents, she began transitioning. Emmie started seeing a psychiatrist and taking hormone replacement therapy, which blocks testosterone and promotes the production of estrogen, resulting in more feminine traits.
"Towards the end of 2018, I started dressing a bit more unisex, and maybe sometimes more feminine-leaning, although I never wore skirts or dresses to work," says Emmie.
"I had already been on hormones for almost half a year already, and I think people were picking up on some clues," she says. "And then I started hearing some rumours about my appearance – and that I was 'flirty' with girls in the office."
Sexual assault in the workplace
At first, Emmie didn't pay much heed. But not long after, in January 2019, the sexual harassment began. "There was one man who was really touchy towards me," says Emmie. "And just before Chinese New Year, he touched me very inappropriately, in an intimate place, at work."
She yelled at the man when the incident took place. Within a matter of days, Emmie started hearing rumours sprang up about her gender, sexuality and financial status, along with other forms of harassment. She reported the incident to the company's HR department in April of that year.
Roughly three weeks after the assault, Emmie started feeling dizzy after a work lunch with colleagues. She called her parents, one of whom took her to the emergency room at a nearby hospital, where doctors instructed her to go to a different hospital.
Upon arrival, however, she was surprised to learn that the hospital was admitting her to a psychiatric ward. "I never said I wanted to hurt myself or anything. And they didn't tell me why I had to go to psych care," says Emmie. The accompanying parent confirmed that Emmie did not mention anything related to self-harm or suicide while she was in the emergency room.
What's more, the hospital assigned her to a male ward. "They stripped me of all my personal belongings, took away my phone, put me in male inpatient clothing, and a lot of weird things happened while I was there."
She says it was her first time ever to be admitted into a psychiatric ward and the experience was very isolating, and she believes the staff made her feel like she was being scrutinised, judged and tortured. "I could hear them talking about me, and at one point, I think a nurse took photos of me."
The experience, she says, has left her traumatised. Ever since the second day of the one-week hospital stay, Emmie has experienced debilitating "head cramps", which she describes as a "stiff and numb feeling, like when you have a leg cramp" that is unlike any headache or head pains she's experienced in the past.
"I can't work anymore or concentrate, and I feel like my brain doesn't function as well as before," she says. "When I wake up, I can feel the head cramps right until I go to sleep again. It's a constant cycle."
She has tried therapy, medication, neurology experts, brain scans, acupuncture, exercise, rest – but nothing has worked. "I'm actively and desperately seeking help from medical experts, to help with the deteriorating, severe head cramps I experience every day, in order to reclaim my life."
A disturbing global trend
According to the global LGBT+ anti-discrimination organisation, Human Rights Campaign, LGBT+ individuals face higher instances of stigma and marginalisation than those who identify as straight and cisgender, putting them at greater risk for sexual assault and hate-motivated violence.
A 2020 study by the Williams Institute at the UCLA School of Law found that members of the LGBT+ community are nearly four times more likely than non-LGBT people to be victims of violent crime. They are also less likely to report violence to the police.
The same is true for Hong Kong. According to a 2021 study by the Chinese University of Hong Kong – the largest of its kind in the city to date – half of Hong Kong's transgender people still face discrimination in their day-to-day life.
About 76 per cent feel rejected in their social lives, including by their family and partners, and close to two-thirds said they had experienced victimisation, including verbal or physical assault, unwanted sexual contact and threats by others to disclose their gender identity.
Vince Chan is an officer at RainLily, an NGO that offers support to sexual assault survivors. They say it has always been difficult for victims of domestic and sexual violence to seek help, including LGBT+ individuals. And the situation has only gotten worse during Covid-19.
"Social distancing measures implemented under the pandemic no doubt affected survivors," Chan says. "We know that the closure of different government facilities, including the Judiciary's General Adjourned Period, which was implemented last year, has affected different sexual violence cases. It has also resulted in prolonged anxiety for victim-survivors of sexual violence."
A survey published in August by the medical journal, Psychiatry Research, titled "Effects of general and sexual minority-specific Covid-19-related stressors on the mental health of lesbian, gay, and bisexual people in Hong Kong" has shown that LGBT+ individuals have experienced an uptick in anxiety and depression amid the pandemic.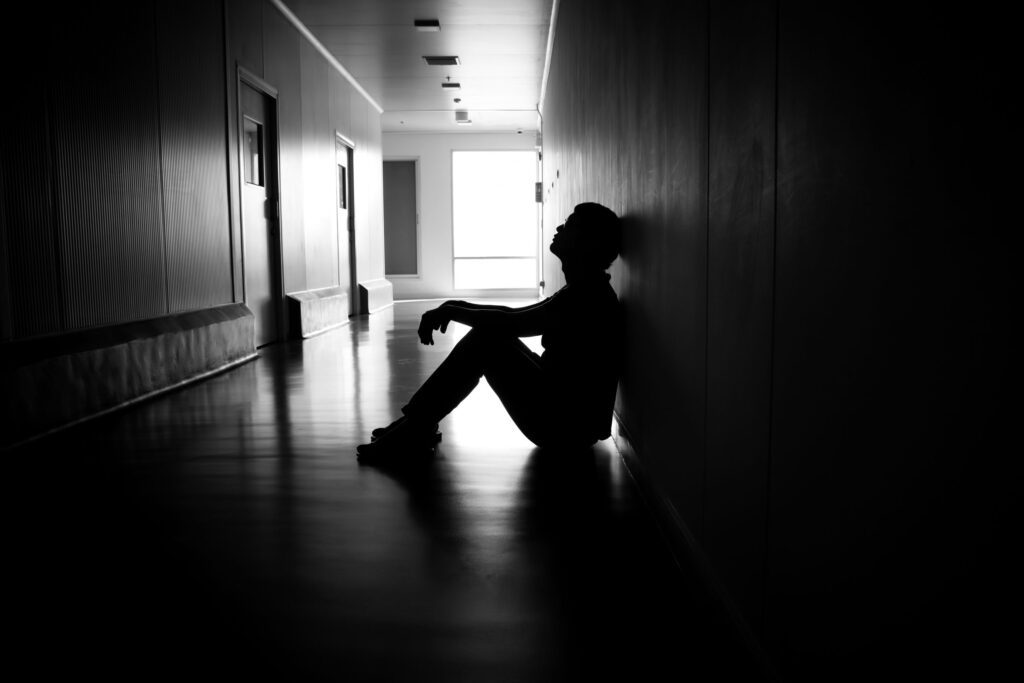 Photo By Aonprom Photo
The survey found that the number of respondents suffering from probable clinical depression rose by 2.6 per cent from before the Covid-19 pandemic to May 2020, when the survey was conducted. The number of respondents suffering from a general anxiety disorder, meanwhile, increased 3.8 per cent.
More than 34 per cent also said the pandemic had reduced their connection to the rest of the LGBT+ community, where they were most likely to find peer support. And respondents in the youngest age group, between 16 and 25, showed significantly higher levels of symptoms of depression and anxiety than their older counterparts, as did those hailing from lower-income groups.
"Many survivors who received counselling [during Covid-19] to help with trauma recovery have found these services could only be accessed online," says Chan. "They have found that the lack of physical interaction hindered their expression of emotion. They also told us that Hong Kong's cramped household environment has made online video counselling undesirable due to their wish to keep their story a secret from their family or cohabitants."
When it comes to supporting transgender individuals, Emmie hopes that people will be more "accepting and understanding of transgender concepts, struggles and issues in order to support transgender individuals," she says, "especially those who are more visible. At a minimum, simply treat transgender individuals just like anyone else."
*Last name withheld due to privacy concerns. 
With reporting by Rhea Mogul.