An Impossible Choice: Domestic workers in Macao must choose before justice or their jobs
Sunni Anwar* arrived in Macao with a heavy heart. It was January 2017, and the 27-year-old from the Indonesian port-city of Cirebon had recently relocated to Macao from Hong Kong, where her first employer threw a bowl at her over a perceived mistake.
Anwar's two young children and elderly father, who suffered from heart disease, were miles away, not to mention she was in serious debt. Anwar owed a total of HK$20,000 (roughly IDR36 million, more than a year's worth of wages on average in Indonesia) to an Indonesian-based agency and training centre. The agency, which worked with a local partner in Macao to place her in the new job, charged her for Cantonese language classes, an airline ticket from Indonesia, standard agency fees, and relocation fees from Hong Kong.
In Macao, Anwar began working as a live-in domestic worker for a local couple in their thirties, along with the husband's parents, where she was paid a monthly salary of MOP4,000 (MOP2,500 of which went towards her loan repayment plan).
For the first few days, the job seemed stable. But very quickly, things changed. One afternoon, Anwar was alone in the apartment with the grandfather when he started groping her and requesting sex. Terrified, Anwar pushed him away, making her objections clear. Afraid of losing her job, she said nothing to the family. Instead, she approached the agency, hoping they might be able to help her end the contract and find a new job. They refused.
As is so often the case, the assaults became more regular: Over the course of the next five months, the grandfather tried to touch Anwar sexually whenever they were alone, which was often since he was retired. At one point, he offered Anwar MOP9,000 to have sex with him.
The more she rejected him, the more aggressive he became. One day, he cornered Anwar, ripped off her trousers and threw her on the bed. Anwar says she was convinced the man would have raped her if the daughter-in-law hadn't come home. As he left the room, the grandfather threatened Anwar, warning her "shut up or I'll kill you" while making a throat-slitting gesture.
That attack motivated Anwar to collect video evidence of the assaults. In the meantime, she had no other choice but to keep working. "I needed money for my father's heart disease treatments," she says. "I didn't want to go home."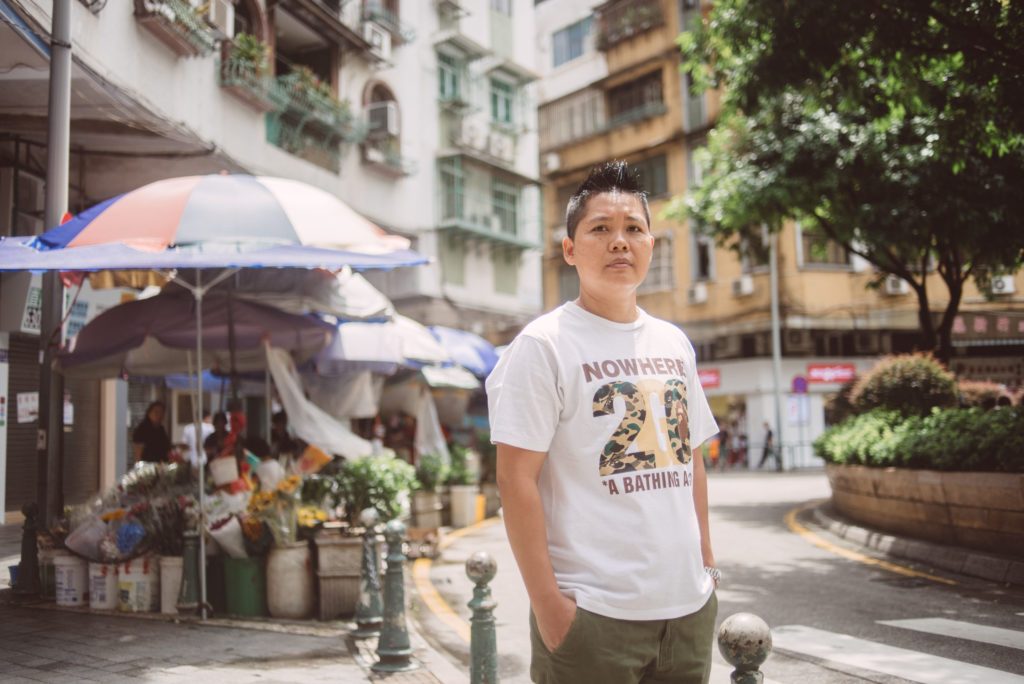 Erik Lestari, a domestic worker and Indonesian migrant rights activist
Few Legal Protections
Anwar was one of the 27,000 Indonesian, Filipino, and Vietnamese domestic workers employed in Macao in 2017. As of May 2019, that number has increased to approximately 30,000. Despite their vital contribution to local families, as well as to Macao's economy, they remain vulnerable and few, if any, have legal protections.
"Domestic workers face different kinds of abuse, such as forced labour, having their passports confiscated, and sexual harassment," says Erik Lestari, a domestic worker and Indonesian migrant rights activist. According to Lestari, most domestic workers lack the ability to report any abuse since immigration laws are heavily stacked in favour of employers.
Under Macao's labour law, once a non-resident's work permit (also known as a blue card) has been terminated – either due to quitting or being fired – they are permitted to stay in Macao for two to eight days, depending on how long they have already lived and worked in the city. If they fail to find a job and obtain a new work permit within that period, they are required by law to return to their home country.
According to various media sources, it is believed that the Labour Affairs Bureau of Macao set up these regulations to prevent non-resident workers from intentionally under-performing in order to receive severance pay from being laid off. This compensation includes payment for unused annual leave, pay for three working days per month that remains in the contract, and a one-way plane ticket to their home country.
Nedie Taberdo, an independent migrant rights' activist and chairperson of the Greens Philippines Migrant Workers Union, says that, in reality, the short grace period after their visa is rescinded does not prevent domestic workers from job-hopping. That's because they will likely have found a new job before terminating their current contract; Taberdo believes it simply discourages workers from reporting any mental, physical, or sexual abuse.
The strict regulations do not make any exceptions for workers who have filed an official complaint of abuse with the police. Once an employer finds out that their helper filed a report, they can immediately fire them and discontinue their work permit. "How can you find another job and go through the entire blue card application process in just a few days?" Taberdo asks.
In a written response to Ariana's inquiry, the Labour Affairs Bureau says that the policy has no impact on a worker's right to seek justice, even if he or she has left Macao. The Bureau says that after receiving a complaint from an employee they will "initiate investigations, which include learning about the situation and collecting information or evidence from both the employer and employee.
If an employee has to leave Macao during the investigation, the investigator will continue to keep in touch with the employee, or the employee may authorise a third party to follow up on the case. Therefore, the employee's labour rights will not be undermined even if he or she has to leave [Macao]."
Taberdo says the bureau's follow-up efforts are just a formality (in many cases Filipino workers are sent letters in Chinese, which they can't read) and questions how far this correspondence goes with regards to obtaining justice without any further action being taken.
Lestari agrees: "Victims can authorise a third party to act on their behalf, but when it comes to giving testimony and providing further evidence, they need to be physically [present] in Macao." Lestari doubts whether victims can afford to fly back for an investigation, especially given how much debt they are already in. She says most give up halfway through the process, which suits everyone but the victim.
Nedie Taberdo, an independent migrant rights' activis
Caught in a trap
Armed with videos, Anwar reached out to the agency again in June 2017, hoping the evidence would convince them to help her find a new job. Instead of supporting her, Anwar says the agency made her delete the evidence and erroneously claimed that, if she presented the videos to the police, she would be punished for filming the man without his consent. To make matters worse, Anwar says they refused to return her passport, marriage certificate, and family card (an official document that states the contact information of immediate family members).
With regards to video evidence, Macao-based lawyer José Abecasis says Anwar would not have been punished for the covert filming. "I've seen many cases where video has been admitted as evidence. From my understanding, Article 186 of Macao's criminal law would not apply to this situation as her objective in filming was not to reveal the other party's sexual life but to reveal the committing of a crime."
Moreover, Anwar was forced to sign an agreement giving up her right to report the abuser, during which the agency forbade Anwar from using a cell phone to call a friend or lawyer for help. Paul Pun, secretary general of Caritas Macau, says Anwar's experience with the agency makes her a victim of human trafficking. According to Macao's human trafficking legislation, the agency committed a crime of forced labour by confiscating Anwar's passport and restricting her freedom.
Anwar's case is not isolated. A 2019 survey conducted by the University of Macau, which at the time of printing had not yet been distributed publicly, revealed that 7.8 per cent of the 700 domestic workers who took part in the survey have had their passports confiscated at some point during their employment.
Fish Ip, the Asia regional coordinator for the International Domestic Workers Federation (IDWF), believes that Anwar's case reflects how agencies often play a major role in the exploitation of domestic workers. "Unfortunately, these workers know nothing about their rights in Macao. They are sent abroad by the agency and, throughout the process, the only institution they know is the agency," she says. "For those who have not been in the city for a long time [like Anwar], if they have any problems, they can only reach out to the agency for help, but they will just exploit the worker to make money."
Anwar says the agency agreed to find her a new employer only if she followed their instructions: Destroy the video evidence and agree not to file a police report; otherwise, she would lose her job, be sent back to Indonesia, and be blacklisted from working in Macao. Moreover, she knew that her family could be billed and held accountable for any money she owed. Anwar felt like she had no choice but to comply.
Ariana contacted the agency for comment, but the manager, who refused to be identified, insisted that the agency has never forced any domestic workers into such a contract: "We know which worker you are talking about. There was only one case [related to sexual assault] throughout the years, but we've never forced anyone to sign any contract. You can bring her here. We don't mind confronting her face-to-face." When Ariana contacted the agency a second time, the manager declined to comment further on Anwar's situation and said the agency retained the right to pursue legal action in case of defamation. 
After she followed their instructions, Anwar says the agency allowed her to move into one of its dormitories and, two weeks later, they found her a new employer. At first, Anwar was hesitant to take the job as she found the wife particularly cold, but the agency told her that she had to act quickly because her current employer would soon discontinue her work permit.
Yet again, Anwar had little choice. She started working as a live-in domestic worker for the new family in late June 2017. The job allowed her to pay off her remaining debts. But she says she could never trust an agency again: "I realised that they just want to take our money. They don't care about our fate at all."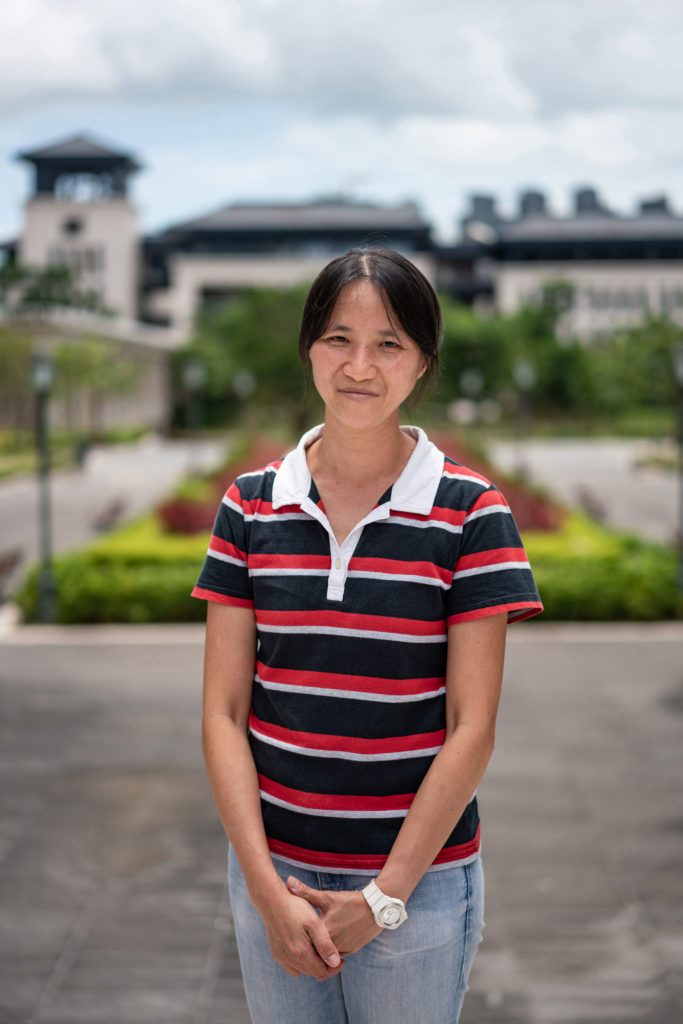 Fish Ip, the Asia regional coordinator for the International Domestic Workers Federation (IDWF).
No time for justice
Windy Tanedo, then 26 years old, left her hometown of Tarlac City in the Philippines and arrived in Macao on a tourist visa in July 2017. She had to sell her mother's house back home so she could afford to travel overseas with high hopes of increasing her income to support her family. 
Through a friend's referral, she started working for a couple in their thirties as a live-in domestic worker, after they applied for her work permit through the Immigration Department. With a standard monthly salary of MOP4,000 (double what she made as a cashier at a gas station in her hometown) Tanedo's primary responsibility was to take care of the husband's 67-year-old mother.
The first seven months passed smoothly, and she got on well with the family. But after the woman passed away, the son started exhibiting a darker side. One day, Tanedo was mopping the floor in the living room. She looked up and saw him on the sofa, masturbating. Shocked, Tanedo left the room and pretended she didn't see anything. 
From then onward, he would masturbate in front of Tanedo whenever his wife was away. If she left the room, he would follow her and continue touching himself. Scared and confused, Tanedo kept silent for nearly four months, knowing that she had no evidence of the harassment.
I just wanted to move on and stop living in fear.

Windy Tanedo
One night, when Tanedo was laying in bed, the husband walked into her room. He approached her and held his face close to hers, just staring at her. Although he did not touch her, Tanedo says the next few minutes felt like forever. "I was so scared. I couldn't move at all," she recalls. That day, she started to sleep with a knife under her pillow.
Soon after came another shock. In June 2018, Tanedo was taking a shower when she looked up and saw an iPad hanging from the small window; the husband was filming her. Tanedo hid in the bathroom and cried, before finally gathering the strength to go to the police, who took her statement and accompanied her to the employee's home to gather her belongings.
The couple agreed to settle the matter privately, paying Tanedo MOP8,000 and giving her time to find another employer before terminating her contract. After staying at a friend's apartment for a week, she found another employer through a local agency, which charged her an agency fee of MOP5,000.
Tanedo believes the settlement was insufficient; however, she needed to find a new job as soon as possible in the face of ongoing financial pressures. "I wasn't interested in learning what I had to do to seek justice. I just wanted to move on and stop living in fear."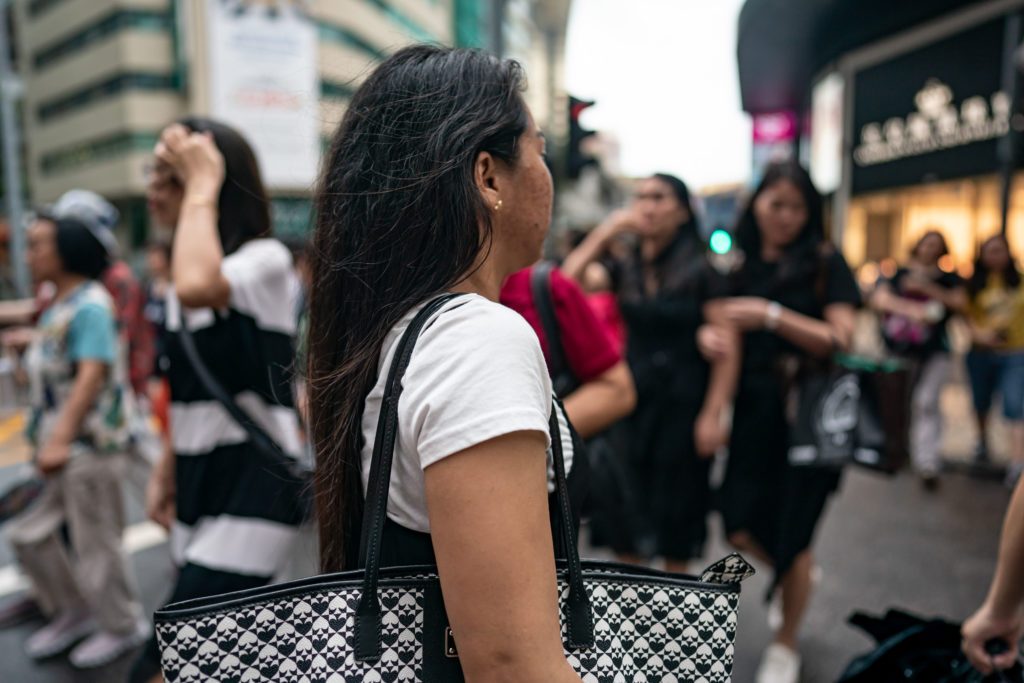 "I just wanted to move on and stop living in fear."
'A nightmare for everyone'
Both Anwar and Tanedo suffered in silence for months, which Pun says isn't too surprising. When people are away from home, he explains, they are more likely to avoid conflicts. "In the case of domestic workers, their concern will be about the consequences of upsetting their employers," he adds. 
However, Pun stresses the importance of victims speaking up, or at least filing a report with the police. "By reporting the harassment and assault, they can turn the problem into a social issue and push the government to take action by adjusting relevant policies."
On an emotional level, Pun believes that reporting a case of harassment not only helps victims release a certain amount of frustration but also encourages healing within the family. "People tend to think that reporting abuse will destroy a family. But the truth is that when a person is abusing someone inside a family, the other family members are also being abused, psychologically speaking. It's a nightmare for everyone."
We cannot let immigration policies override a worker's right to seek justice.

Fish Ip
To encourage more reporting, Pun believes that the Immigration Department should grant legal stay to migrant workers who have filed a complaint, until the case is settled. Meanwhile, he says, local NGOs can help by supporting workers throughout their time in Macao. "There will be risks of false accusations, but I don't think this will be common because migrant workers often have to borrow money in order to come to Macao. If they stop working, they'll be in trouble."
Ip, from the IDWF, agrees that the strict regulations on illegal immigration and expulsion have made it impossible for the domestic workers to report abuse. "The Labour Affairs Bureau and Immigration Department must coordinate better. We cannot let immigration policies override a worker's right to seek justice," she stresses.
Besides reviewing immigration policies, Ip believes there are many ways for the community to work together to protect these vulnerable migrant workers. "While the Labour Affairs Bureau can arrange home visits to check on the well-being of domestic workers, more promotion can be done to let the public know that abuse and harassment are wrong and punishable."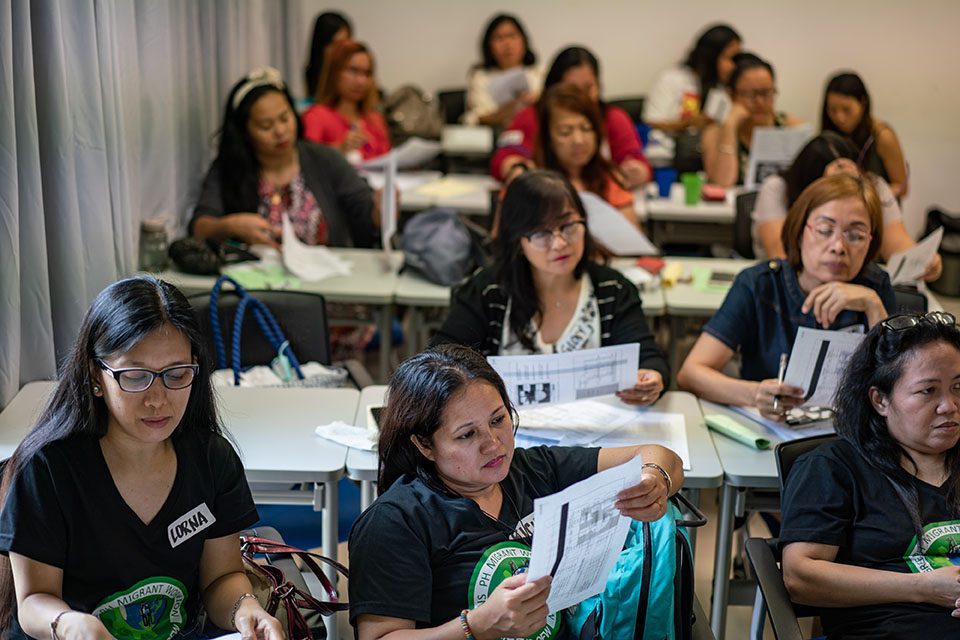 A workshop hosted by IDWF teaches domestic workers how to navigate Macao's visa regulations and seek support.
One too many
Last year, the Public Security Police Force of Macao received six cases in relation to the abuse of domestic workers by employers or employers' family members. Among the cases, the force processed one reported instance of rape and five cases of general intrusion of physical integrity (assault that causes physical or mental damage). The rape case is now being being followed up by Macao's Judiciary Police.
According to Pun, Caritas Macau has received one official complaint of sexual assault from a domestic worker in the past two years. 
However, Pun stresses that in a small city like Macao, one case is already too many. "If we can encourage even just one victim to report the abuse, this might help motivate more victims to come forward."
Tanedo says it has taken six months for her to come to terms with what happened: "In the past, I would cry every time I talked about my experience." Today, she says, she is working for a good employer and she also managed to buy back her mother's house (which she sold to move to Macao). While she is on the mend, Tanedo still believes it's important for the laws to protect domestic workers. "Without better laws some bosses will continue to disregard our well-being," she says.
As for Anwar, she recently lost her father and continues to work in Macao, this time for an employer who was referred by a friend. She's trying to put the trauma behind her: "Although I'm getting better over time, I still feel very angry about the experience. I cry whenever I think about it."
Anwar admits she's afraid to be alone with men. She wears long sleeves and long trousers at work and feels anxious if her male boss accidentally touches her hand; she also makes sure she's never alone in a room with him, even though he has always been completely professional. When he asked if she was OK, Anwar told him that she was a Muslim and that it was forbidden for her to have physical contact with men, apart from her husband.
"That's the only thing I can say," Anwar explains. "It's not something you can just tell everyone. The trauma may disappear someday, but I don't know when."
*Name has been changed to protect the victim's identity.
Inadequate Protection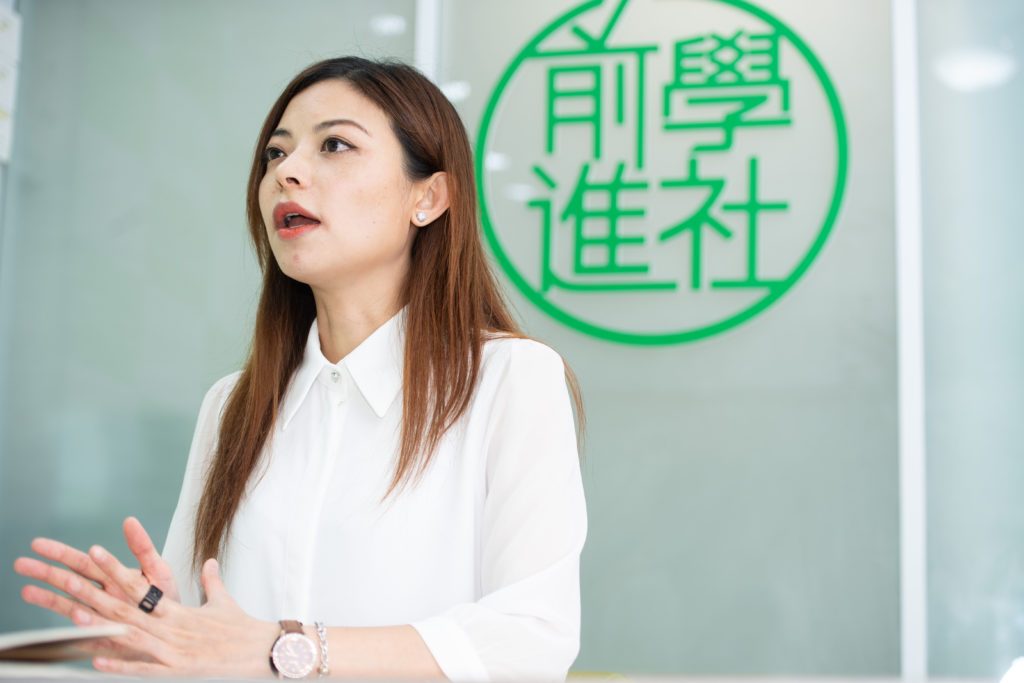 Icy Kam says Macao should establish an independent committee to handle sexual harassment complaints.
We spoke with local activist Icy Kam to better understand how Macao's legal protections for sexual harassment are falling short.
Relative to other developed cities, Macao was late to establish legal protections against sexual harassment. Enacted just two years ago, the SAR's sexual harassment law criminalises non-consensual physical contact and punishes guilty offenders with up to one year in prison.
But Icy Kam, chairperson of the New Macau Association and a member of the Concern Group of Sex Crimes, believes that the law fails to provide full protections. "Harassment without physical contact, such as candid photographs or videos and verbal abuse, are not covered by the law," says Kam.
For instance, in May, the police arrested a man for filming women without permission in the bathroom of a local shopping mall; however, due to inadequate laws, the offender was only charged for 'Intrusion of Private Life (Article 186)'. "The charge excluded the sexual offense embedded within the crime," says Kam.
The activist stresses that an independent committee for handling sexual harassment complaints needs to be established and all forms of sexual harassment should fall under a formal mechanism for reconciliation or punishment. She points to the Equal Opportunities Commission in Hong Kong as an example for Macao to follow, adding: "We cannot just let all these misconducts go unnoticed."
Learn more newmacau.org