The Seawall: Living in a world of constant surveillance
He walked past the former ship-loading bay and climbed up the seawall to the walkway above, setting his food down carefully. To his left was the glare of the Hong Kong skyline, against which he often saw the silhouettes of others like him. But tonight, he was alone.
The seawall was a haven for Seb. Here, he felt more like himself. His experience of others changed: rather than anxiety and anger, he felt camaraderie. He rarely made eye contact or exchanged words, but when he saw them sitting there, looking out over miles of discarded plastic, he felt a certain kinship in their shared sense of despair.
By the late 2040s, you could have anything, meet anyone, go anywhere – all thanks to the limitless possibilities of the virtual world. But while augmented experiences continued to develop at warp speed, a sense of apathy about the real world had set in. Curiosity, imagination, dreams… these were quickly becoming foreign concepts. 
Seb understood that virtual fulfilment ratings were at an all-time high and real-world ambition was at an all-time low. He'd witnessed this in a virtual class he'd taught by deviating from the curriculum when he asked his students about their dreams. They had mostly shrugged. Their parents, following via a livestream, were outraged.
There was one student, Xan, who blinked back at him, as if pondering his question. Seb held her gaze, waiting, willing her on, certain that he was witnessing something important happening, something organic. Xan started to smile and Seb, his heartbeat escalating, was certain that the student was about to share her pent-up passions and ambitions. But was that all he desired? He asked himself this over and over, and each time he felt that it was nothing more than an urge to hear Xan's aspirations. To his disappointment, the girl had blushed and dropped her gaze.
A few days later, the virtual classroom's near-optimum relationships management system (NORMS) singled out Seb for sexual harassment, and the school authorities fired him. According to NORMS, Seb had spent 4.3 seconds waiting for a student to answer his question with an elevated heart rate of 101 bpm, thereby showing "an undue level of interest in her responsiveness." According to the dismissal report, this constituted sexual harassment.
 His first reaction was disbelief, especially as he'd never set eyes on Xan in the real world. But no such argument held up in a majority-virtual realm. He was well aware of the sophistication of virtual predators. In fact, it was Seb who had convinced the school board to install such a sensitive system in the first place.   
NORMS was designed specifically to prevent cyber harassment by monitoring relationships in virtual environments. The programme used algorithms to detect deviations from established patterns in human interaction; when behaviour changed, it would raise an alert.
Seb had challenged the findings, arguing that his behaviour had been for educational purposes only, but the school had set NORMS to 'high caution' for the students' protection. Meanwhile, the administrators reminded Seb that he had received training on behavioural norms and that there were no exceptions for deviation. By law, two breaches led to criminal charges being filed, but as this was Seb's first offense, he received a permanent social warning.
As a result, Seb faced restricted access to public services, including the best hospitals and housing, as well as to the job market and his hard-earned state pension. Worst of all was the social ostracisation: When Seb approached, everyone saw the amber glow of a sexual predator in the corner of their augmented lenses. The first time he was in public after his dismissal, the crowds had parted around him; others crossed the street to avoid him. Seb had smiled at a young man who seemed friendly, only to be spat upon.
When Seb approached, everyone saw the amber glow of a sexual predator in the corner of their augmented lenses.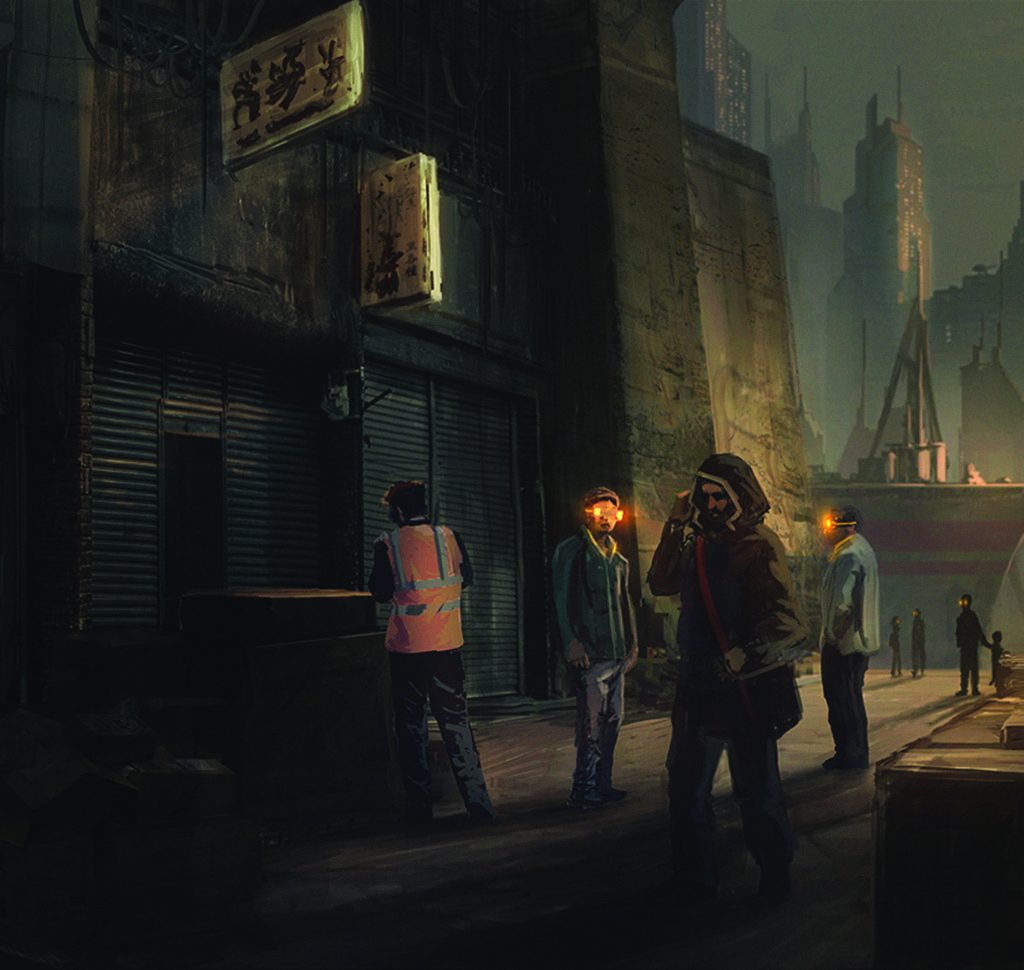 The Pearl River Delta radar system had been commissioned by the Ministry of Defence, and kindness didn't factor into it.
Reading the signals
Constantly being judged by others, Seb began to judge himself. It weighed heavily on him, on his gestures, his voice, his physique.
He'd once been classed as an optimal specimen – high scores for posture, muscle, weight, and presentation – but as the months passed, the muscles between his shoulder blades weakened, his head slumped, and his eyes lost their energy. Seb's voice grew quieter too, muffled, indistinct. He stopped wearing flattering, well-cut suits and instead pulled the same pair of faded jeans and old, loose shirts out of his closet.
He used to be a tech idealist. He had believed that the social radar could bring about higher levels of compassion or generosity ­– that if you could see the lives of others, you might become more empathetic. But the Pearl River Delta radar system had been commissioned by the Ministry of Defence, and kindness didn't factor into it.
The one blessing through all of this had been his fiancée, Kim. Seb had lost his job not long after their engagement, and he had no choice but to tell her the truth, with the amber light signalling his new status as a social outcast.
Her eyes had darkened then clouded over, and he thought he might never again feel their warmth. He'd gotten up to leave but she had blocked his path. For a moment, he thought she might just walk out the door, so he held his breath. Kim seemed on the verge of wanting to ask him something, one final question that might offer him a chance, a way out, but she didn't. All she said was: we'll cope.
He struggled to see how her reaction was even possible. No one trusted people like that anymore. No one chose companionship over individual reputation. And who could blame them, given all the social dangers of association? Kim's own green rating would eventually turn amber due to the amount of time they spent together. They didn't need to be married for his stigma to become hers.
Recently, he'd even started to worry that Kim's trust in him wouldn't last. Even if she did trust him, would she still desire him? In fact, the more he thought about it, the stranger it seemed. Was Kim's support and trust a sign of real love and devotion – something tangible, raw, human – or was she hiding something from him, something she was ashamed of? Seb wasn't sure anymore.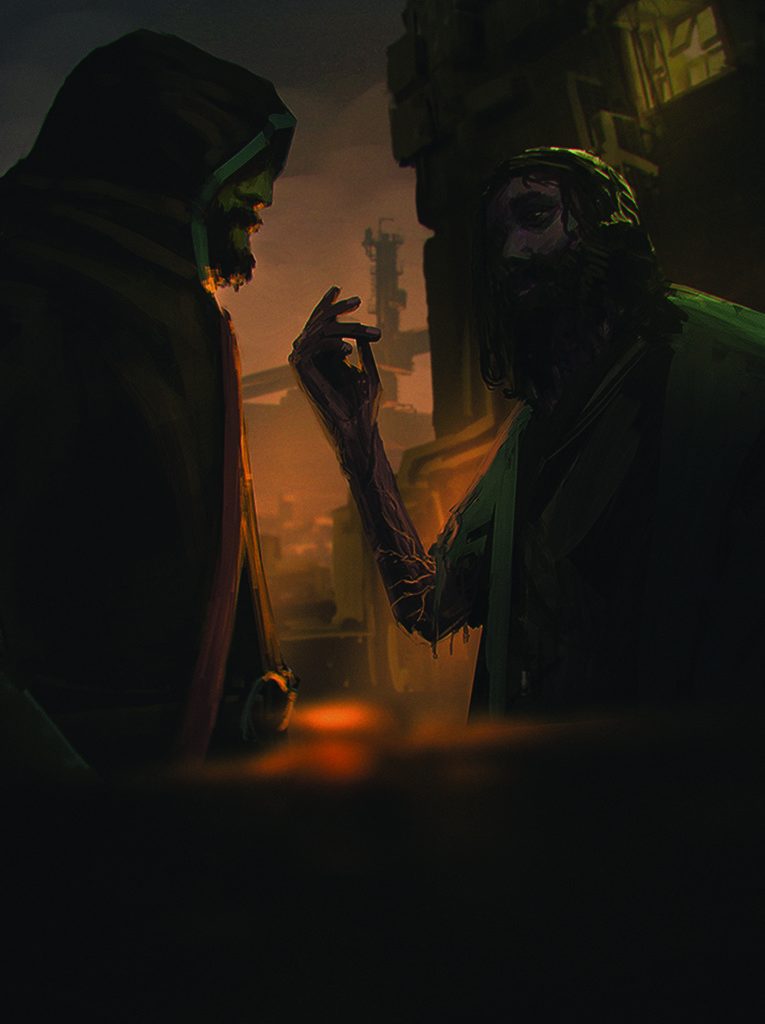 Seb twisted round to see an old man offering up a white forearm bone, exposed by dried, stretched flesh.
A spectre from the past
As Seb stared at the waves crashing below he felt a tap on his shoulder, then heard a voice straining to be heard above the water.
"I'd watch your food."
Seb looked down at his tray of grubs, fattened on their own organic waste and harvested that morning. Like most days, he'd fried up a handful of them with dried garlic and brought them along as a snack. There must have been a crack in the seal, because a large cockroach had prised it open and was having a feast.
You didn't find storks or kingfishers in the region anymore as they'd migrated north in search of fish, but roaches were still a menace. The giant ones that swarmed around the Greater Bay Area had attracted commercial interest because their milk was four times as nutritious as dairy or nut (without the vast land and water requirements), and so businesses were soon selling wild, farmed, and lab-grown varieties. But the same roaches had also started to spread a flesh-eating, antibiotic-resistant bacteria known as Vikings disease.
Careful not to startle the roach, Seb got up to leave, turning his back on the stranger. Poised to make a dash to avoid the roach, he realised that he'd been rude. "And you?" he asked, turning around, though not enough to face whoever it was. "Aren't you afraid to catch it?"
"Caught it already."
Seb twisted round to see an old man offering up a white forearm bone, exposed by dried, stretched flesh. He also noticed that the man had no radar, which was odd. But he was looking at Seb openly, one human being to another. Daring now to look fully into his face, Seb suddenly recognised the stranger as Mr Crewe, a former teacher of his, one he'd admired but who had fallen from grace during the #MeToo purge of the 2010s.
 Seb had often wondered if Mr Crewe was guilty, but hadn't followed the trial or bothered to find out the verdict. It was clear he'd been living on the streets and outside the system. It was the only way to escape the radars – a trade-off, as he saw it, between safety and humanity. Social outcasts, whether voluntary or expelled, had been the first victims of Vikings disease.
"Sebastian?"
"Yes, it's me," Seb replied, his voice softening as his confidence returned with the memory of a teacher who'd believed in him. "It's a pleasure to see you again, Mr Crewe."
"Call me Angus, please," the man said.
"Angus," Seb repeated, shyly.
"I'm sure you're wondering…" Seb suddenly felt Angus's grip on his arm, insistent. "It all happened many years ago, before everything had eyes and ears, and before those eyes and ears could read our thoughts. There were hidden spots in schools, you know, and ways of sharing messages that could be deleted. People lived private lives. Can you even imagine? And you know, we weren't all perfect, we hadn't optimised our behaviours. I'm sorry I wasn't perfect. I found myself in a position of power and I took advantage."
Seb was unsure what to make of the man's candour.
"The problem is that no one wants to hear my side of things. But I've come through it. I can see what I did, and I know why I did it. Perhaps there could have been ways to help me, beyond surveillance, I mean. There must be people who could help men like me…" Angus trailed off and stared out at the city beyond. "Perhaps I can help others," he added.
"Is there no place in this world for a full confession?" Seb asked, almost unconsciously.
Angus smiled, holding Seb's gaze for what seemed like an eternity.