Mark your calendar: Essential social justice dates for 2021
Turning a spotlight on social justice issues, the United Nations (UN) has marked a series of International Days to celebrate gender, environmental and humanitarian issues around the world. 
Chosen and designated during the UN General Assembly, the international dates aim to engage diverse communities and raise awareness at the same time. 
In addition to the designated International Days, the UN also observes human rights and social justice dates organised by specialised agencies, such as the World Health Organisation, the World Bank and UNESCO.
From World Press Freedom Day to International Women's Day, we take a look at five upcoming dates in 2021, as well as the issues and advocacy work behind them. 
February 20: World Day of Social Justice 
Every year since 2009, the World Day of Social Justice has been observed by the UN and many communities worldwide. The date highlights the importance of addressing social justice topics such as poverty, unemployment, race, sexual orientation and gender-based discrimination, as well as social and economic disparity. 
Teachers, parents and caretakers can take this day as an opportunity to educate children and students on what social justice means, and how we can affect positive changes in our communities by supporting and participating in humanitarian causes. 
In Hong Kong, we have our own share of social issues, including inhumane caged homes, domestic worker rights and human trafficking, among many others.
Those who are curious about social justice issues can visit the websites of organisations such as Oxfam, Amnesty International and other groups to learn about the various causes you can support around town. 
March 8: International Women's Day
International Women's Day has a long and storied history. Women in Soviet Russia first established the day as a national holiday, when they gained the right to vote on 8 March, 1917.
The UN subsequently adopted the date in 1977, and since then, women and allies around the world have joined the event each year. 
In 2020, despite the global outbreak of COVID-19, women marched in cities like London, Paris, Madrid, Brussels and Bishkek, Kyrgyzstan, in honour of the theme "I am Generation Equality: Realising Women's Rights" and to demand greater rights in their regions.
This coming year's theme will be "Women in leadership: Achieving an equal future in a COVID-19 world".
To support the date in Hong Kong, check out The Women's Foundation for a roster of events and initiatives. 
May 3: World Press Freedom Day 
An ever-important event, World Press Freedom Day was first declared by the UN General Assembly in 1993.
According to the United Nations Education and Scientific and Cultural Organisation (UNESCO), the date "acts as a reminder to governments of the need to respect their commitment to press freedom, and is also a day of reflection among media professionals about the issues of press freedom and professional ethics."  
From social media inspiration to virtual events, UNESCO's website offers tips for those interested in supporting journalists and press freedom issues.
Press freedom is an important way to ensure that the public stays informed and maintains access to true and factual information. A free press is also a crucial way to hold governments, public figures and institutions accountable for their actions.
In the Asia-Pacific region, this date is particularly important: Asia is home to several regions including Singapore, the Philippines and Hong Kong where press freedom is quickly on the decline according to Reporters Without Borders' 2020 Press Freedom Index.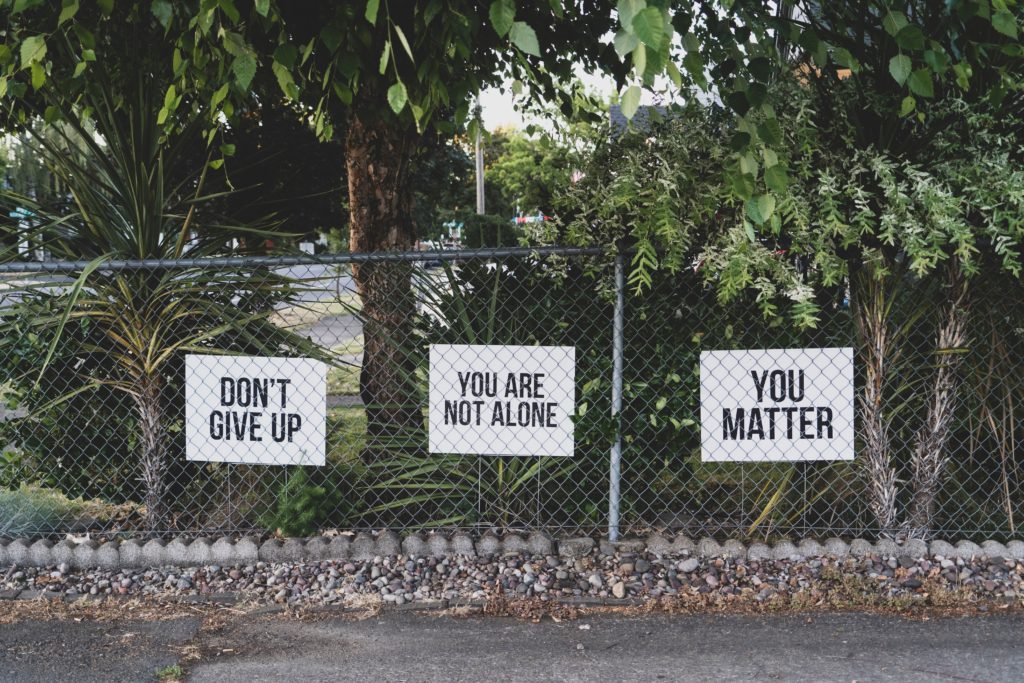 Credit: Dan Meyers on Unsplash
September 10: World Suicide Prevention Day 
In September, a multitude of global organisations including the UN, the World Health Organisation (WHO), and the World Federation for Mental Health come together to observe World Suicide Prevention Day. 
Created in 2003, the event came to life after the WHO saw a need in organising global suicide prevention strategies with two goals in mind: First, the WHO strives to organise "global, regional and national multi-sectoral activities" for suicide awareness.
And second, the organisation helps countries "develop and evaluate national policies and plans for suicide prevention." 
Globally, suicide is the second-leading cause of death among people aged 15 to 29 years old. The WHO states that nearly 800,000 people across the world die from suicide each year.
In Hong Kong, organisations such as the MindHK, The Weez Project and the Hong Kong Jockey Club Centre for Suicide Research and Prevention mark the date with events that address the seriousness of suicide and mental illness in the SAR. 
November 19: World Toilet Day 
Since it was first introduced in 2013, World Toilet Day serves as an important reminder that not everyone has access to clean and accessible sanitation resources. 
In fact, the UN calls the issue a "global sanitation crisis," as more than 4.2 billion people worldwide live without access to safe toilets and basic sanitation, while another 673 million people around the world live without toilets, and must relieve themselves in public or outdoor spaces.
Sanitation not only impacts safety and public health but also human dignity and the lives of women in much of the world's developing nations. For the over 1 million Rohingya refugees who have fled Myanmar over recent years and have resettled in dozens of camps across Bangladesh, sanitation is a serious issue.
In some camps, sometimes only one toilet is shared among over 150 inhabitants, raising concerns over hygiene, safety and accessibility. 
Hongkongers can get involved by contributing to charities like Plan International and World Vision to help communities in need.