Hope for humanity: Kashmir's Covid-19 heroes show just how good people can be
Life has never been comfortable in Kashmir. A long-contested Himalayan region between India and Pakistan, the territory has suffered through many wars, uprisings and violent crackdowns over the past several decades.
Unrest swelled again last year when India revoked the semi-autonomous status of Jammu and Kashmir, the India-controlled area of Kashmir, in August 2019.
In the days and weeks following, thousands of Kashmiris took to the streets and protested the decision. Citing national security concerns, the government of India deployed military troops to the region, implemented a strict curfew and suspended telecommunications.
The move that not only isolated Kashmiris from the outside world but also interrupted school and work for countless residents. After roughly eight months, the local administration in Kashmir finally restored the internet in the spring of 2020 but choked speeds down to 2G.
The Covid-19 pandemic has added another layer of challenges. In March 2020, Kashmir reported its first case of the novel coronavirus, and the territory went into lockdown to contain the spread.
While working or studying online may be a solution for many other areas of the world, it's not a viable option in Kashmir due to the sluggish internet speeds. Mental health issues are also on the rise; many working-class families find themselves facing wage cuts or unemployment, while also suffering from months of isolation and hopelessness.
Despite many challenges, many volunteers, teachers, bakers, NGOs and pharmacists have stepped up, sometimes at significant personal risk, to serve their community amid ongoing civil unrest (political uncertainties) and the Covid-19 pandemic. In this photo series, we explore the contributions of Kashmir's unsung heroes, who have helped society move forward.
Muneer Alam, 40, is a professional teacher who has been holding open-air classes since June in the corner of a playground in Srinagar, the largest city in Jammu and Kashmir.
"While the world is preparing for 5G, conducting online classes in Kashmir on 2G internet is useless for both teachers and students," says Alam. "I cannot teach students using 2G internet because it buffers [very slowly] and any boards or notes I use online may not appear clearly."
Since the outbreak began, Alam has taught more than a hundred secondary school students in his open-air classes – and his first cohort of students are now preparing for final exams.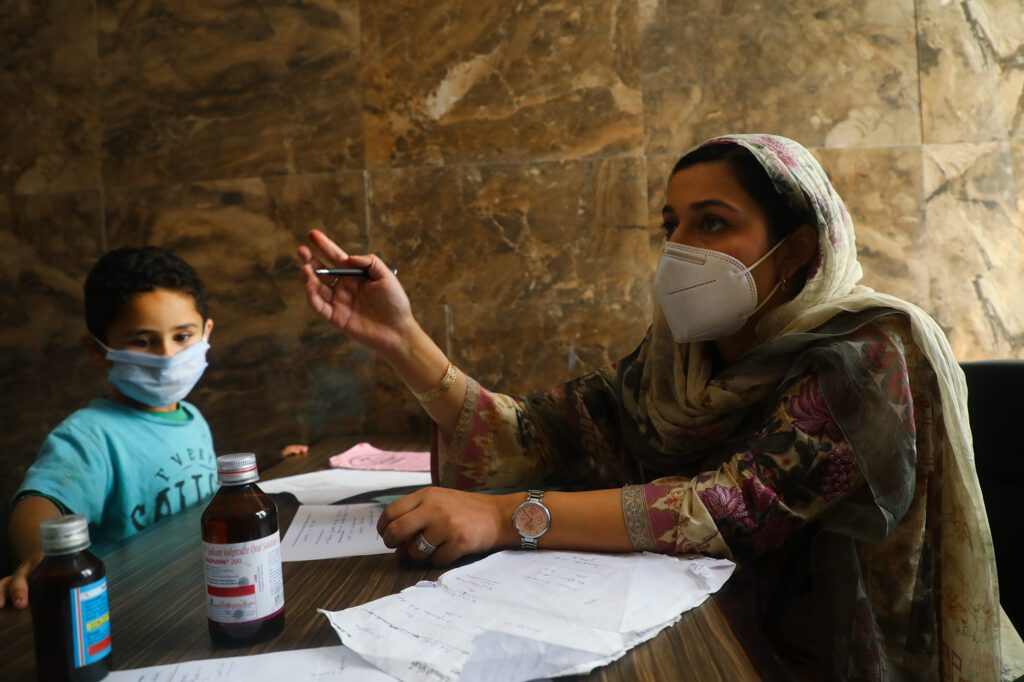 Deeba Nazir, 29, is a child psychiatrist who works at a government psychiatric hospital in Srinagar. Since the pandemic began, Nazir says she has observed a notable uptick in behavioural issues among children fueled in part by fear, anxiety and isolation.
Mental health issues in a society like Kashmir are taboo, which makes it challenging for Nazir to raise awareness about the importance of the mental well-being of children living. Not only have many children witness violence in the war-torn region, but they are also suffering during the Covid-19 lockdowns.
"One of the key reasons [that children are having a hard time now] is due to school closures and a lack of socialisation," says Nazir. "Children need to play outside, meet friends at school…"
In addition, the way parents communicate about the pandemic at home can also impact their children. "When parents share excessive knowledge about Covid-19 with children, it can make them anxious and fearful," she adds.
During the first few months of the pandemic, many shops in the city closed down, and residents could not find milk – let alone other types of fresh, healthy foods – anywhere. But Abdul Wahab was not going to let Kashmiris go without this nutritious breakfast staple.
Every morning before dawn, Wahab heads to his farm in Pulwama village, about 25 kilometres southeast of Srinagar, to pick up containers full of fresh milk. The 60-year-old loads up his truck then drives to his shop in downtown Srinagar in time for breakfast.
Having managed his dairy farm since childhood, Wahab sees his milk business as an essential service, especially in a time when a healthy diet is vital to boost one's strength and immune system.
A 34-year-old social worker, Qurat-ul-Ain Masoodi has been supporting underprivileged families for over a decade through her NGO AASH-The Hope of Kashmir. While looking after the needs of the community at the onset of the pandemic, she noticed another major problem: a shortage of personal protective equipment (PPE).
Masoodi jumped into action, urgently manufacturing and assembling various PPE kits, medicine, ration kits, and face coverings for frontline workers and those in need. So far, she and her team have distributed about 5,000 PPE kits and 10,000 masks.
In some cases, Masoodi and her team of volunteers have also helped families access medicines when they cannot afford to purchase them on their own.
Like milk, bread is another traditional breakfast food in Kashmir that has also been difficult to find during the pandemic. However, Ishfaq Ahmad has made it his mission to ensure there is always fresh bread available in areas that do not have a local baker.
Though the government initially ordered bakeries to shut down, the 27-year-old continued working, starting his day at dawn to deliver fresh loaves to those in need.
The baker says he doesn't want to see more people die in Kashmir – not from the virus, ongoing conflicts, or hunger. He cannot control the first two issues, but he can ensure more people have bread to eat.
Umer Hayat has kept his pharmacy in Srinagar open 24-7 since the pandemic started. He hopes to ensure affordable medicine is readily available for everyday concerns such as the common cold, flu, diabetes and blood pressure.
Most importantly, says Hayat, he wants Kashmiris to be able to find medicine – such as FluGuard, which doctors often prescribe for coronavirus patients – quickly and easily should they become infected with Covid-19.
To stay open around the clock, Hayat and his brother take turns working the night shift. "I am at the shop every day for at least 12 hours, no matter what," says Hayat. "If my shop shuts down, people will have trouble getting medicine during the lockdown."