Go with the flow: Meet 3 of Asia's period entrepreneurs
Every day, some 800 million women and girls are having their periods worldwide. Across many countries and societies, menstruation is still whispered about, or referred to with euphemisms that have little to do with biology.  
In Asia, this hushed approach is all the more acute in countries such as India, Nepal and Indonesia. In such cultures, menstrual cycles are still considered a taboo – if not shrouded in shame. And as a consequence of conservative attitudes towards female hygiene, centuries-old religious beliefs, incomplete reproductive health education and limited access to basic menstrual products.
The pandemic has only exacerbated the issue. According to a World Bank report published in May, COVID-19 lockdowns, border closures and supply chain disruptions have restricted the availability of menstrual hygiene products in a number of regions, including many Southeast Asian countries. 
"Periods in a Pandemic," an online survey conducted that same month by humanitarian organisation Plan International showed similar findings. Around 81 per cent of interviewees expressed concern that menstruating girls and women did not have the support they needed to meet their Menstrual Hygiene Management (MHM) needs, especially in Africa and Asia. 
If anything, the ongoing economic impact of coronavirus will only plunge more people into period poverty. And while these challenges aren't going away anytime soon, a shift around menstrual health is taking place in Hong Kong and across Asia. Leading the way are female-led companies, platforms and initiatives that are striving to provide access to feminine products and normalise period conversations.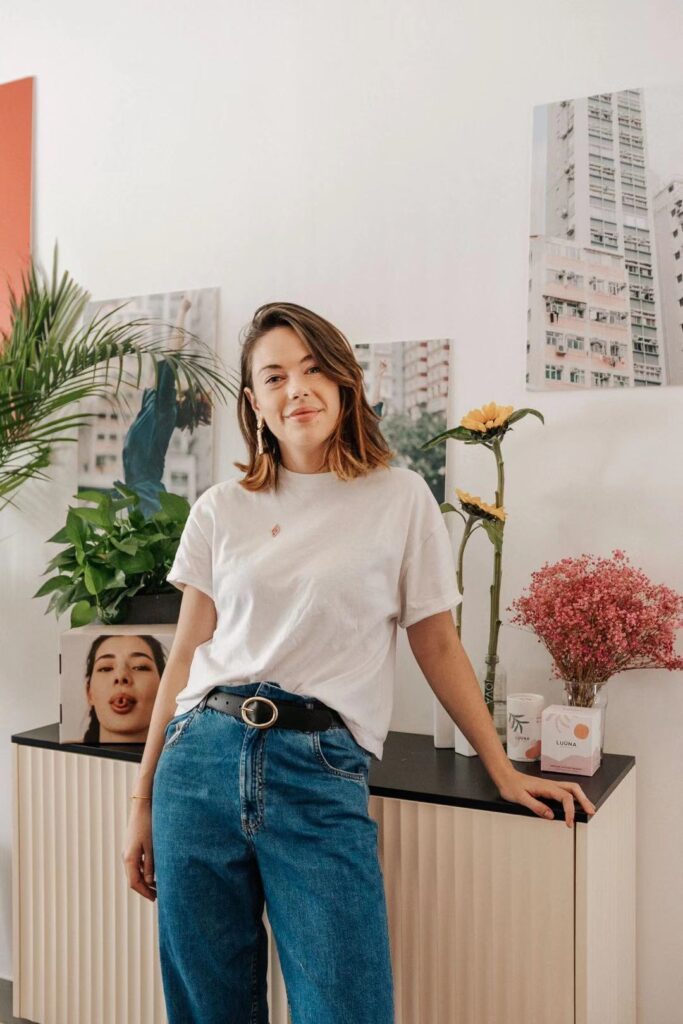 Olivia Cotes-James, founder of Luuna Naturals. Credit: Luuna Naturals
PERIOD ENTREPRENEURS IN HONG KONG 
Hong Kong- and Shanghai-based Luuna Naturals is one such company. Established in 2016, the femcare brand and social enterprise sells eco-friendly products, such as toxin-free, organic sanitary pads, liners and tampons, and silicone menstrual cups. 
Luuna Naturals also conducts regular consumer education initiatives, including workshops and open forums that cover everything from menstrual wellness to fertility and reproduction with an aim to bust myths and misconceptions about the female experience. 
Through the sales of their products, the social enterprise also supports a number of local partner charities. It also works with a trusted network of social initiatives across Asia, including Free Periods, which helps low-income women access free sustainable menstrual products; ImpactHK, a charity supporting the homeless; and Bethune House, a refuge for women migrant workers in distress. 
Luuna Natural's mission is "to change the status quo around periods from a 360°perspective, and under safe guidance," says founder Olivia Cotes-James. "Menstrual stigma is the biggest barrier to the global advancement of women and girls."
"It ripples through and restricts almost every aspect of women's lives, often regardless of economic differences or levels of education. [Menstrual stigma] affects our body confidence, our workplace, the time we spend in school, at the gym, outdoors. And it feeds into a toxic narrative around womanhood. With Luuna, we want to change that."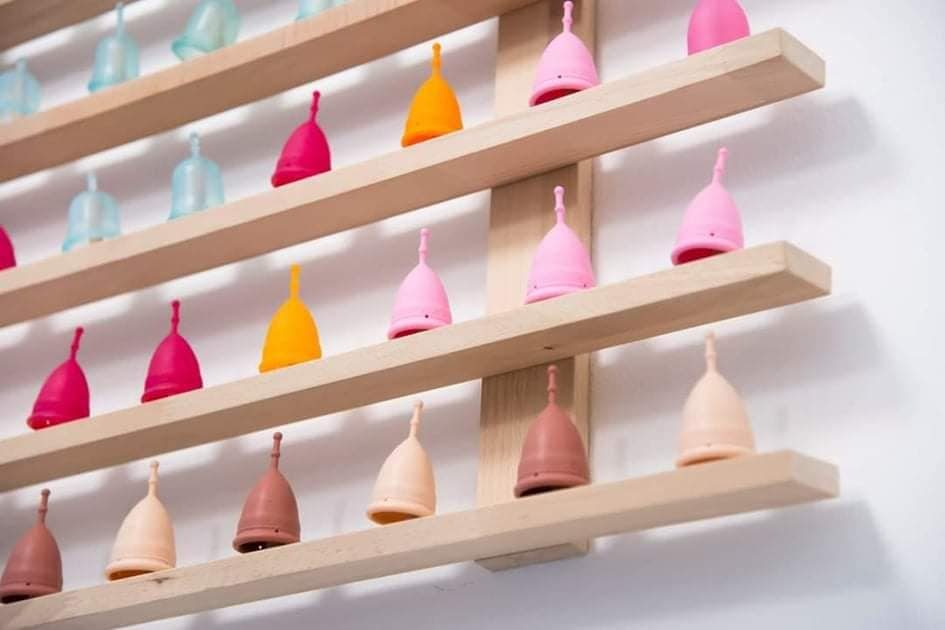 Credit: Cotton Mermaid
MENSTRUATION CONVERSATIONS IN SOUTHEAST ASIA
Singapore-based venture Cotton Mermaid, which launched in 2017, also specialises in eco-friendly menstrual products. The company mainly caters to the Malaysian and Singaporean markets, though products can also be shipped throughout Southeast Asia and internationally.  
"Female hygiene and reproductive health are some of the most important yet least discussed subjects in our society," says founder Yeelin Chong. "But they  should be talked about just like any other thing. It's essential to empower women."
It's also key to women's overall health. "Think about what would happen if we dismissed cardiovascular health," says Chong. "Ignoring or glossing over women's wellbeing means we may miss the early diagnosis of many illnesses. There's a real danger that."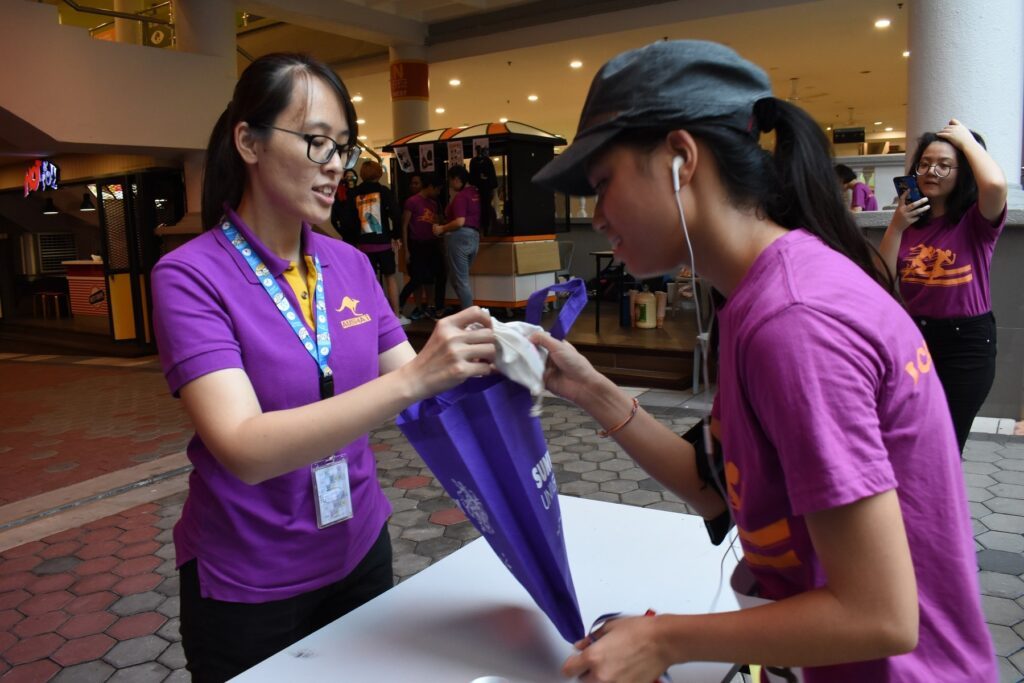 Cotton Mermaid at a convention. Credit: Cotton Mermaid
To encourage a shift towards a more open mindset, Cotton Mermaid purposely uses words like vagina, period, blood and cervix when talking about its products and menstruation, both on social media and through its offline campaigns. 
By doing so, Chong says the team hopes to empower other women to speak openly about their periods, too. "We often have women asking about our products or menstruation in a very discreet manner – especially in Malaysia, a country that's relatively conservaive about this topic," she says. "But when we start to talk more about it, they start to open up too, and feel more at ease."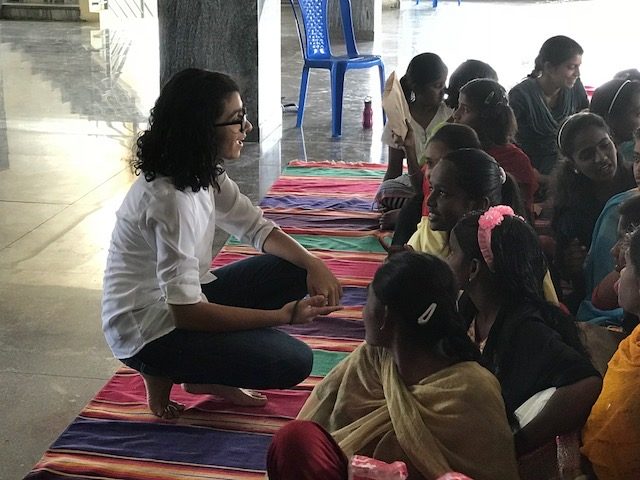 Sanjana Dixit of Rutu Chakra. Credit: Rutu Chakra
MAKING PERIODS SAFE IN INDIA
Changing the way women and men talk about periods is also at the core of Rutu Chakra, a youth-run NGO in India. Founded by Sanjana Dixit in 2018, Rutu Chakra (which means "menstrual cycle in Sanskirt") works to achieve menstrual equity and ensure that every girl and woman is able to manage their cycles with dignity.  
The organisation provides menstrual products to underprivileged communities, runs campaigns on menstruation hygiene, and aims to promote honest and inclusive conversations among all genders through workshops and educational programmes. 
Dixit, 20 year old, first began rethinking menstruation on her 16th birthday during a visit to an orphanage in Sarjapura, a village near her hometown of Bangalore. "I went to the washrooms, and while they were decently maintained, they made me question how the young girls living there were addressing menstrual hygiene and sanitation. How were they managing their periods?" 
She asked the coordinator, who told her that few realised the importance of donating essentials like sanitary napkins. "The same was for education: funds would be used for a variety of academic projects, but never for healthcare education or to inform students about the risks of unsafe menstrual hygiene practices," Dixit recalls. "As a menstruator, that didn't sit well with me at all. It was the main motivation for me to begin Rutu Chakra." 
To date, the NGO has worked with 12 organisations and distributed more than 132,800 menstrual products, mostly sanitary pads, to areas and individuals in need.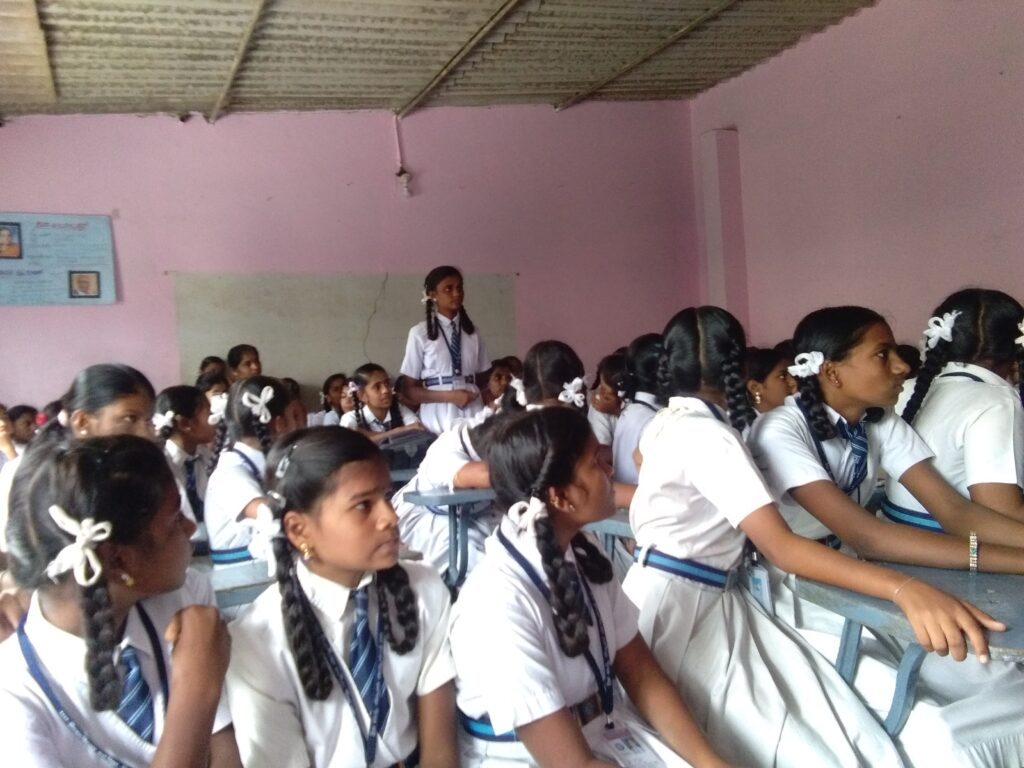 Credit: RutuChakra
CHANGING THE CONVERSATION 
"Menstruation taboos still affect over 360 millions menstruators across the country, and the belief system surrounding the subject is still very resistant to change, so there's a long way to go," says Dixit. 
Indeed, periods have long been considered impure in India, and menstruating women are often discriminated against by being excluded from social and religious events, denied entry into temples and shrines and even kept out of kitchens. 
And while the Indian government scrapped a 12 per cent tax on sanitary products in 2018 after months of campaigning by activists, 71 per cent of adolescent girls in the country are unaware of menstruation until they get it themselves. 
"The silence around women's reproductive health only makes us more vulnerable to diseases, unwanted pregnancies, illnesses" Dixit says. "But it also means a lot of girls drop out of school, because they don't have access to sanitary napkins or they fear being mocked by their peers and ostracised. That's a major hindrance to gender equality: when we don't include women in the conversation about sexual health, we're holding them back."
It has been estimated that as many as 1 in 5 girls drop out of school after they get their periods — around 20 per cent.  In some regions, like Maharashtra, that number is nearer to 4 in 5. 
"Getting people to look at the menstrual cycle not as a curse nor a disease but rather as a welcoming change in an individual's body actually requires a real sociological and psychological effort," she continues. "But younger generations are definitely more receptive to normalising the topic and embracing the menstrual movement, although more in urban areas then the rest of the country" Social media and TV culture are partly to thank for that increased receptiveness: India's Gen Zers are more used to being exposed to topics such as sex, relationships, and even feminism. 
In Hong Kong, Cotes-James agrees.  "Gen Zers are more open to talk about period and reproductive health," she says. "Despite the fact shame still exists around menstruation, personal perspectives on periods are shifting cultural norms."
"Younger generation [in Asia] are definitely more conscious about their bodies, their roles in society, and empowering other women and girls. Slowly but surely, we're cultivating change."